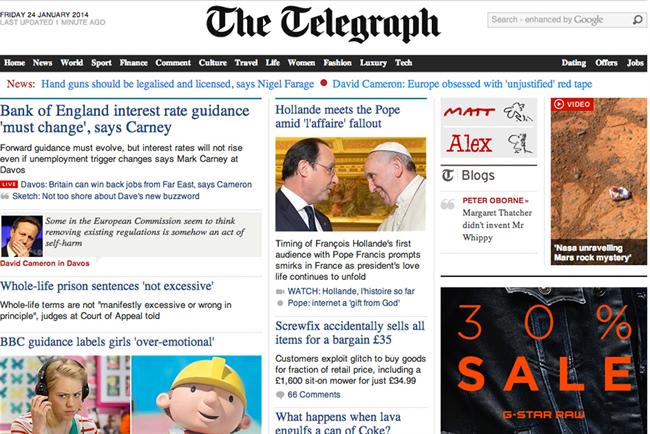 Telegraph Media Group's editor-in-chief, Jason Seiken, revealed the publisher's best online performance yet at an Advertising Week Europe event in London's Ronnie Scott's today.
The online figure for the site that includes content from the Daily Telegraph and Sunday Telegraph - still to be verified by the Audit Bureau of Circulations - represents a 30 per cent rise month on month and a 40 per cent lift year on year.
Seiken said: "The main challenge across the digital space in this very attention-deficit disorder that we live in, is how do we engage an audience and keep that audience coming back to our content for more... We are very much focused on more mobile, more video and more social."
Seiken, whose 30-year career in journalism includes spells as vice-president of AOL Europe and editor-in-chief of washingtonpost.com, joined TMG in October 2013. His remit now encompasses all aspects of editorial operation across the Telegraph Media Group.
Telegraph Media Group became theUK's first general-interest newspaper to adopt an online metered model in April 2013.
TMG's meter currently allows users to access 20 articles a month for free, followed by a £1.99 per month charge or a full digital pack, which includes tablet editions, priced at £9.99 a month.

The model resembles that of the specialist financial newsbrand Financial Times and is the one chosen by The New York Times and The Washington Post.

Ever since its launch, one of the most striking observations about the move is that most of the Telegraph's online readers are not affected by it at all.
As Campaign revealed at the time, the average user visits telegraph.co.uk just 12 times per month, according to comScore data. March's record online performance at the Telegraph seems to underline this fact, which will reassure current advertisers but will raise questions around the value of the metered model in terms of revenues from subscriptions.
News UK's chief executive Mike Darcey told Campaign last year he believes the Telegraph's metered model is just delaying the inevitable decision, about whether to monetise your content online or not.
The Financial Times has now reached the tipping point where its generates more revenues from its readers, driven primarily by digital subscriptions, than its advertising.