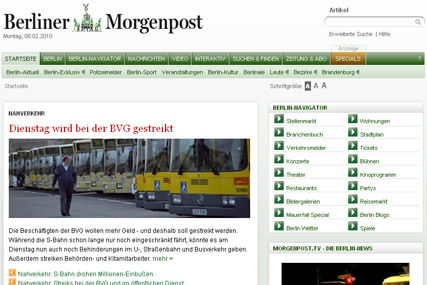 Axel Springer is adding the ClickandBuy payment system to the Berliner Morgenpost and the Hamburger Abendblatt. The papers are now charging for all content including their archives.
Content on Morgenpost.de now costs €4.95 per month (£4.35) with Abendblatt.de charging €7.95 (£6.99).
The introduction of what could be a number of pay wall initiatives was signalled in December by Christoph Keese, head of public affairs and the man behind media firm's online strategy.
He told the New York Times: "The meta-philosophy of free – we should get rid of this philosophy. A highly industrialized world cannot survive on rumours. It needs quality journalism, and that costs money."
The charges at Berliner Morgenpost and the Hamburger Abendblatt join other paid moves at Axel Springer including iPhone apps for two of its national dailies, Bild and Die Welt.
Charles Fraenkl, CEO of ClickandBuy, said: "New Apps from Bild and Welt have generated a significant degree of enthusiasm, thereby clearly demonstrating that if paid content has a distinctive value, people are willing to pay for information and entertainment when it is convenient, easy and secure. The great age for paid content has just begun."
In the US MediaNews Group has said it plans to charge for access to the Enterprise-Record, in Chico, California, and the Daily Record in York, Pennsylvania.
There are no details available yet on how much it will charge but MediaNews President Joseph Lodovic told Bloomberg that users would be charged a fee if they were accessing more than 25 "premium" articles a month.
Lodovic said that the premium fee could include columns and investigative reporting as well as puzzles.
MediaNews is the latest company to publicly announce that it is using Steve Brill's Journalism Online system, which is called Press+.
Last week it was reported that two other local newspapers, The Intelligencer Journal-Lancaster New Era and The Fayetteville Observer in North Carolina, were also to use Journalism Online's system.
More on Brand Republic blogs