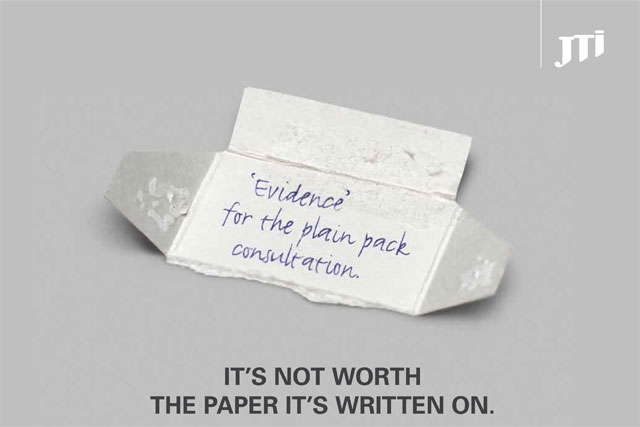 The ads, created by Big Al's Creative Emporium, were banned on the grounds that they had breached the CAP code and were "misleading" and lacking in "substantiation".

The Advertising Standards Authority examined the ads after receiving complaints about the claims in the ads from the charities ASH (Action on Smoking and Health) and Cancer Research

Gallaher, which includes Benson & Hedges and Silk Cut among its brands, released three national press ads claiming there was "no evidence" that plain cigarette packaging would discourage young people from buying cigarettes.

Text in one of the ads stated: "This same policy was rejected in 2008 because there was no credible evidence."

The company said that after the 2008 Consultation on the Future of Tobacco Control, the Government had considered and put forward a range of control measures, including a ban on displaying tobacco products for sale, but had not taken forward proposals to introduce plain packaging for cigarettes.
Gallaher, which is part of Japan Tobacco International (JTI), also highlighted various statements made by ministers after the 2008 consultation was published, which they said reinforced the fact that the Government had rejected the idea to introduce plain cigarette packaging.

In one such statement, they quoted Alan Johnson, the secretary of state for health in 2009, who said: "There is no evidence base that it [plain packaging] actually reduces the number of young children smoking.

"We want to keep that under review, and when there is an evidence base for it, it could well be another important measure to meet our goal, which is to reduce the number of young people smoking."
This they interpreted as a rejection of the policy.
However, the ASA's assessment concluded that Gallaher's assertions in the ads that the Government had strictly rejected the proposals were incorrect and misleading, as Johnson had said the proposals would kept "under review" and "could well be another important measure".

The ASA also verified with the Department of Health (DoH) that this was the Government's current position on the matter.

The DoH advised that, while the proposal was not pursued in the new [2008/9] legislation, the Government had kept open the potential for it to be pursued at a later date and it was not correct to say there had been an outright rejection.

The ASA ruled the ads must not appear in their current form and told JTI not to claim the Government had rejected the policy of plan packaging and not state or imply it had not been introduced because of a lack of evidence.
A statement issued by JTI said that it was disappointed by the ASA's decision and that it would not use the advertisements again, but that it would not withhold from voicing concern on the issue in the future.