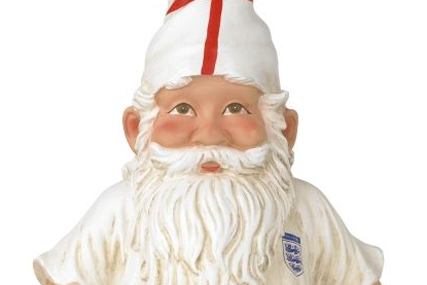 The gnome, which is wearing a replica of England's current home strip, has gone on sale today (4 June), ahead of the start of the Fifa World Cup in South Africa next Friday. It is also available to buy online, priced at £12.98.
The DIY retailer has stocked wheelbarrows featuring the St George's cross for the past few weeks. B&Q has also been stocking a World Cup Petunia Mix – red and white flowers, with 20,000 mixes sold.
Yesterday, Kingfisher, the parent company of B&Q said that like-for-like sales for the DIY chain in the UK had fallen by 2.8% in the 13 weeks to May 1.
The retailer said that trading was hit by snow, as well as a chillier March and April. Total sales in the UK and Ireland were down 2.1% to £1.04bn, with retail profit growth of 12.0% to £67m.
Its Screwfix brand was impacted by a "challenging trade market", witnessing a total sales decline of 0.8% to £118m.
Ian Cheshire, group chief executive at Kingfisher, said: "We have continued to deliver solid profit growth in a tough first quarter, during which our customers were impacted by adverse weather conditions across Europe and ongoing economic uncertainty.
"While this is a good start to the year, our first quarter is typically one of the least significant contributors to annual profit, and so there is much still to do this year. The headwinds we anticipated at the start of the year look set to continue, but we are in good shape and well prepared."