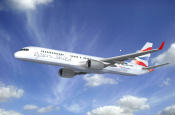 The new airline, which has been in development under the codename 'Project Lauren', has been named after the agreement which makes its service possible.
It launches in June with one Boeing 757 aircraft and will fly between Brussels and Paris, and New York. It will offer business, premium economy and economy cabins, ending previous speculation that the new brand would be an all-premium service.
The airline's business class cabin will have 24 seats that convert into six-foot flat beds. The aircraft will also have 28 premium economy seats with a 52-inch seat pitch and 30 economy seats.
A second aircraft, which will fly to the other EU destination, will be added to the fleet later in the year. BA is aiming to have six 757s in operation by the end of 2009, which will be sourced from its current fleet.
The planes will have winglets retro-fitted on the aircraft, which BA claims will improve fuel efficiency, reduce the aircraft's CO2 emissions and increase the aircraft's operating range.
BA chief executive Willie Walsh said: 'This is an exciting new venture for us and we're confident that it will be a great success as we build on the strength of British Airways' brand in the US and Europe.'
'It also signals our determination to lobby for further liberalisation in this market when talks between the EU and US take place later this year,' he added.
The move has been made possible by the 'open skies' agreement, which will allow EU or US carriers to fly from anywhere in Europe to the US from March. BA will shortly file an application for the necessary regulatory approval in the US and UK.
The British government wants a further deal that lifts restrictions on foreign ownership of US airlines and permits European carriers to operate internal flights within the US.
According to industry insiders OpenSkies, which will be managed by BA's former director of worldwide sales Dale Moss, may run in to difficulty with obtaining slots at a congested at New York's JFK airport.
Design agency Baron & Davies, who worked on BA's Terminal 5 lounges, developed the branding for OpenSkies. Advertising for the launch is expected to be handled by Bartle Bogle Hegarty.
See next week's Marketing for a full analysis.