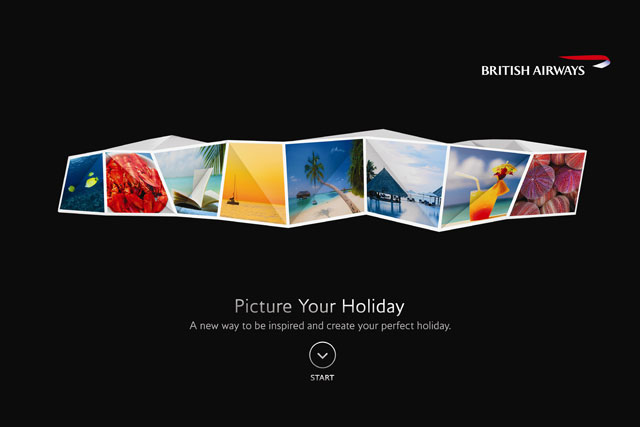 The platform, called Picture Your Holiday, has been designed by BBH London and created by its latest acquisition, mobile agency Monterosa.
The visual mood board presents consumers with a range of interlocking images depicting different holiday experiences, from beach scenes to art galleries and mountain hikes to cityscapes, which can be dragged into a concertina-style book.
Once a range of images have been pulled together, BA produces a range of destinations that fit the individual profiles people have created for their holiday experiences.
Consumers can then share their ideas with people through Facebook, Twitter, Google+ and email.
The work is being supported by digital and outdoor activity, including interactive digital outdoor ads on touchscreen LCD screens at Westfield shopping centres.
The screens have been produced and built by Grand Visual in association with Kinetic Fuel, and mimic the online experience.
Matt Armstrong, head of marketing and distribution for BA Holidays, said: "We believe that by putting the fun and emotion back into searching for holidays, we can surprise people by suggesting destinations they may not have considered.
"By using generic destination images alongside lifestyle images we can showcase the wide-ranging appeal of the destinations we support.
"This is a different approach from other tour operators and we hope it will make our holidays stand out in a very competitive market."
EasyJet came up with its own holiday CRM tool called Inspire Me last October, which uses a scrolling bar to display varying budgets, airports and holiday themes to European customers.