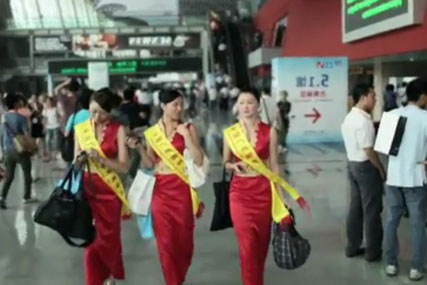 BA offset the drop in revenue by cutting costs, allowing it to make an operating profit of £25m between October and December last year – its first operating profit since the second quarter of its 2008/9 financial year, July to September 2008.

BA made a loss before tax of £50m, up from a £122m loss in 2008, and said it had succeeded in reducing its operating costs by 10.5%.
In September, BA launched an 11-week campaign using ads shot in a documentary style, to show the worldwide opportunities open to travellers.

The nine ads were created by ad agency Bartle Bogle Hegarty and featured events such as the migration of wildebeest and Mumbai Fashion Week.
Willie Walsh, chief executive of British Airways, said: "While we are on the right track, we still expect to make record losses this year. Permanent structural change is being introduced in all areas and will return us to sustained profitability."

In November, the company signed a deal with Spanish airline Iberia for a proposed merger, and is looking to finalise terms by the end of year. It is planning a transatlantic joint business with Iberia and American Airlines.

BA is currently looking to renegotiate terms with its staff in an attempt to manage a £3.7bn pension funds deficit.