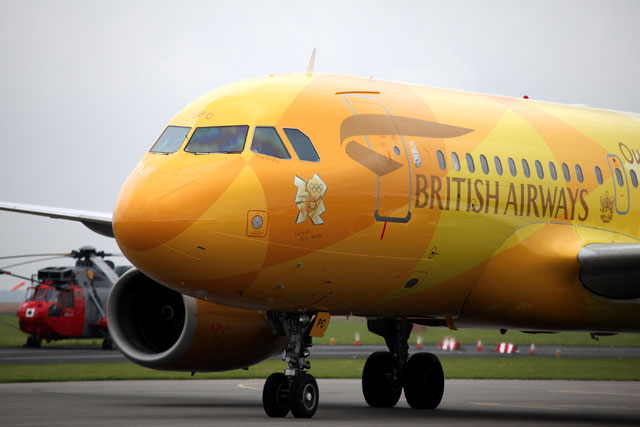 The airline, which is the official airline partner of the London 2012 Olympic and Paralympic games, has arranged for a flame-coloured A319 aircraft to be decorated with a "thank you" message spanning 13 metres on its underbelly.
During its 20-minute journey it will pass over the Olympic Park and reach The Mall one minute later at about 3.41pm.
It will be followed by a series of military planes and a Red Arrows formation.
On the ground during the parade, a team of British Airways ambassadors will be passing around message boards and pens for spectators to write their own messages for display during the parade.
The airline has taken out a front page ad in today's Metro to tell people 'Have a look up as our plane leads the fly-past at today's Greatest Team Parade', as well as a two-page advertorial in the paper.
Keith Williams, chief executive of British Airways, said: "Everyone involved has done an outstanding job to show this country at its absolute best. Our fly-past is a special tribute to all of them."
During the Olympics and Paralympic Games, British Airways hosted a BA Live stage in the Olympic Park, showing on LED screens and hosting several athletes including Sir Chris Hoy and Rebecca Adlington.
The airline also placed a giant image of gold-medallist Jessica Ennis on a flightpath near Heathrow.
Lord Seb Coe, chairman of Locog, said: "British Airways has played a huge part in the London 2012 Games.
"During the Games, Park Live has been such a great place for fans to get together and cheer on athletes and I'm delighted that British Airways are going to be supporting the athlete's parade."
Follow @shearmans