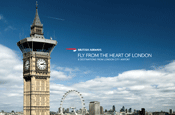 The airline has approached London-based network agen­cies with a request for infor­mation, which has to be submitted by the end of April.

The UK digital marketing brief, which has been handled by Agency.com since 1998, is not included in the review.

The winning shop will be BA's first retained digital agency across the region. The airline has previously award­ed digital projects on an ad hoc basis.

The successful agency will work on all of BA's digital ac­tivity, including strategy, web­site build and online ads.

A spokeswoman said: "We are currently going through a pitch process to introduce a consolidated approach."

The review coincides with a pitch for BA's global DM ac­count. WWAV Rapp Collins, Carlson and OgivlyOne are competing for the task.