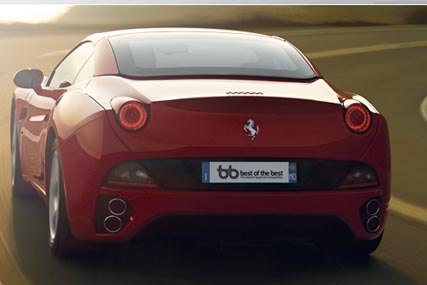 Best of the Best, the company that operates the service, is to have its contract terminated for the four BAA airports that it operates in: Heathrow, Stanstead, Glasgow and Edinburgh.
BAA has said it wants to use the space Best of the Best has previously used to provide more seating, signage and information for travellers.
John Holland-Kaye, commercial director of BAA, said: "We are constantly reviewing how we can improve the service we offer passengers, and have concluded that the sites currently used for the promotion of cars can be better used to create more space, signage or information points."
The company was unclear on whether it has any plans to put in more advertising displays in the space.
Best of the Best's share price nearly halved to 14.5p after the news.
Best of the Best has been running since 2009 and has held contracts with BAA for the past 10 years. It has given out prizes worth £10.7m in that time to more than 300 winners.
The termination has coincided with BAA reporting a record September at Heathrow, with traffic figures showing 6.2 million people flew from the airport last month, a 6.7% rise on September 2009.
Best of the Best has said that "it is deeply regrettable that this relationship will be coming to an end".
The company has not indicated how it will market itself without its positioning in BAA airports, saying instead: "In light of recent events, the directors will be undertaking a strategic and operational review of the business and the options available to maximise shareholder value."