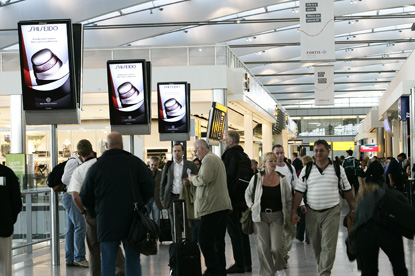 The research, which was carried out by the specialist eye-tracking agency Eyetracker, was conducted at the international departure lounge of Heathrow Terminal 5. It tested passengers wearing eye-tracking glasses that pinpoint a person's eye movements and showed that the average passenger views around 100 screens during their journey through the airport.
It found that because people survey their environment in a non-linear way, with their eyes moving back and forth as they search for and are attracted to airport signs, repetition of the creative helps advertisers.

The report concluded that advertisers should refresh their creative in banks of three to four screens so that passengers can absorb messages before reaching the next bank of screens where the message can be reinforced.

Richard Malton, the marketing director of JCDecaux Airport, said: "The research provides a new level of understanding about digital with important findings that will shape the face of future campaigns at our airports.

"The Eyetracker research has demonstrated the high levels of engagement of the Digital Airport Panels, showing that it is a highly efficient medium with no wastage.

"It has proved that even small movements capture passengers' attention, which has important implications for the introduction of live feeds and countdowns on our DAPs, so that we constantly refresh the screens for the eye."