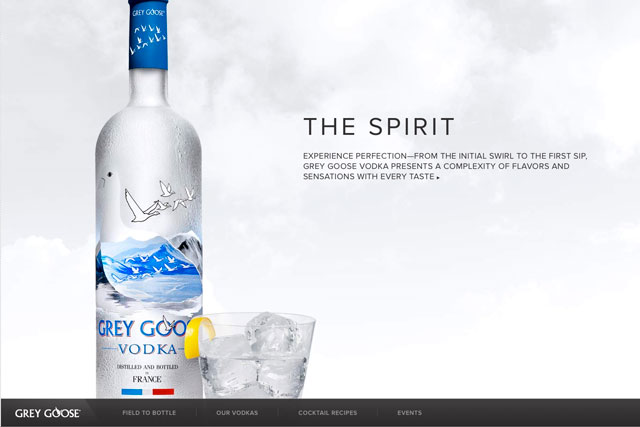 The brand is conducting the review out of the US and is currently meeting with competing ad agencies.
Grey Goose, which is distilled in France, has a premium positioning in Europe, but has traditionally gone for more mass appeal in the US, which is by far its biggest market.
The move follows the appointment of R/GA as Grey Goose's global digital agency of record in June last year.
Grey Goose's UK advertising has previously involved print work and advertorials featuring high-profile names, including the designers Hassan Abdullah and Roland Mouret, in glossy magazines such as GQ and Esquire. These were designed by Purple PR along with the media agency Universal McCann.
Last year, Grey Goose launched a TV spot in the US, titled "strengths", to stress the importance of responsible drinking. It followed a previous spot, "reunion", that aimed to communicate the value of people getting together.
Grey Goose, which is packaged in a sleek, frosted-glass bottle, attracted many imitators in the spirits market after it was launched by Sidney Frank in 1997.
The US self-made billionaire was inspired by French manufacturing's inherent link with perceived high quality and sent a team to Europe to create the new brand.
Frank sold Grey Goose vodka to Bacardi in 2004 for $2.3 billion, the highest price ever paid for a single spirits brand. He died in 2006.