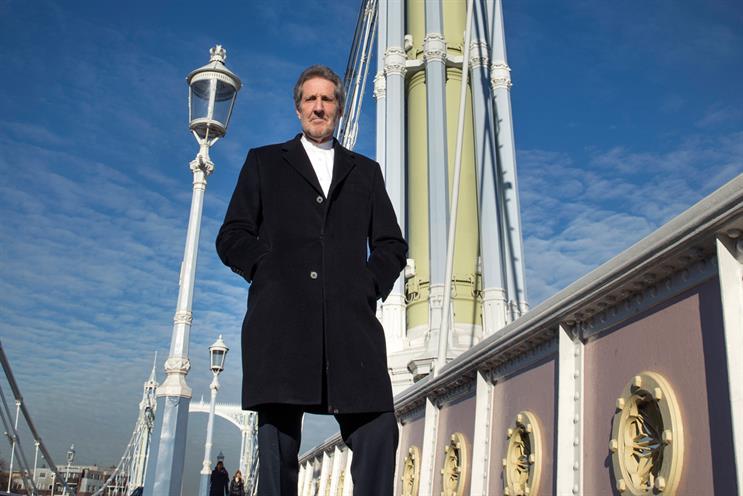 For many centuries, when a British ambassador retired, he would write a "valedictory despatch" to the Foreign Office recalling his career and passing on his observations and advice for future generations.
I guess this is mine… but not so poncey.
Dear excellencies,
Thank you for putting up with me in the best business in the world for so long.
(Especially Saatchis, in all its manifestations.)
When I started, the main media was not cave-painting, as my son charmingly suggested, but it was earlyish colour TV.
Strange beasts roamed the planet called moviolas, double heads and answer prints. Lunches were long and ashtrays were full.
Behaviour was often highly reprehensible and the commission rate was… well, high (17.5 per cent – eat your heart out).
And yet, out of this antediluvian, alcoholic and undisciplined world, there emerged a British advertising industry that led the world with its creativity. How come?
Because lunches were long, but nights and weekends in the office were longer. The technology was simple, but we mastered it. Passion and confidence were as high as the commission rate.
For an amuse bouche of this amusing award-winning era, here are some of my awards.
Best Wardrobe Call: Dunlop Tyres with JR Ewing from Dallas
We started it in Larry Hagman's house in Malibu at 10.30am and finished at 3.30am the following morning. (Beer, tequila and a Jacuzzi were involved.) Brilliantly, we decided Larry should wear his JR hat.
Dunlop petrol-saving tyre sales up 30 per cent.
Best Account Handling (BS Department): Paul Bainsfair with the Independent Television Companies' Association on Castlemaine XXXX
The ITCA spotted that the XXXX in "Australians wouldn't give a XXXX for anything else" might have an alternative interpretation.
Paul: "[Innocent face] I'm sorry, I don't understand. Are you saying we can't say our brand name in our ad?"
The line is now in the Oxford Dictionary Of Quotations.
Best XXXXing Wrap Party: XXXX in Broken Hill
After an excessively enthusiastic product sampling, the Aussie crew were arrested and taken to Broken Hill jail.
Me to Neolithic desk sergeant: "If you release them, I'll look after them as I haven't been drinking."
Desk sergeant: "I can see that, mate. It's all over your strides." Looking down, I saw that my white moleskins were indeed totally saturated in "the product".
Five years after launch, XXXX was the second-best-selling lager in Britain.
Longest Time (And Distance) On A Brief: Paul Arden and Jeff Stark
Paul went to join Jeff working on an InterCity brief for three weeks. At the time, Jeff was sailing single-handedly across the Pacific. For delayed result, see below.
Best Self-Promotion: Tony Kaye
A young(ish) Tony, dressed like Che Guevara, was hurling leaflets about himself off the roof at Saatchis. When I told Jeremy Sinclair he was a director, Jeremy asked: "Is he any good?"
Shortly after, Tony did his first multi-award-winning commercial as a director for us with Paul Arden and Jeff Stark. Client: InterCity.
So have this rabble of narcissistic, fast-living time-wasters got anything to teach us now with our sparkly Macs, PCs (political correctnesses) and media? Well, just maybe. May I suggest a few?
If you enjoy your advertising, they will enjoy your advertising
Advertising is a deadly serious business but, if you have fun doing ads, you will do ones that are fun for people to watch. And rather than block them, people will more likely buy from them.
Creative is king
Strategy is essential but what people see is the creative work. So getting the best creative people is the most important thing. And they and their creative director are the most important people. They might behave and look a bit weird. But so do golden geese.
Agencies should be partners and not suppliers
The best ads have often come from the best partnerships between client and agency. So, clients, don't pick an agency you can control; pick one you admire. And then give them three things: your ears and some respect. They will repay you a hundredfold.
One other thing…
Time, please
I love computers. My iPhone has more computing power than the roomful of computers at my first agency. And they have sped up themselves and the whole production of ads tenfold.
But there's one computer that hasn't sped up: the human brain. It still has 100 billion neurons like it has always had, and that's what actually conceives the ads.
So, at a time when it's still taking Lord Chilcot six years to discover what we did 11 years ago, don't ask this superb but un-sped-up computer to create your whole brand in three days. Give it time and it will reward you.
It's all advertising
Digital is great. Banner ads, Twitter, Facebook, Instagram, YouTube, mobile – all the new media. But that's what they are. New media for advertising, not a new dispensation to replace advertising. Just like TV, press, radio and print – which, incidentally, are far from dead.
So give control of them to people who understand advertising as much as those who understand technology. Because it's not just about following the consumers (like some irritating jasmine-seller in Morocco), it's about engaging them. Then your advertising will click. And so will they.
PS
A friend of mine who was our ambassador in Italy wrote a "valedictory" that was so rude that they abolished the entire tradition. Oops!
James Lowther is a founding partner at M&C Saatchi