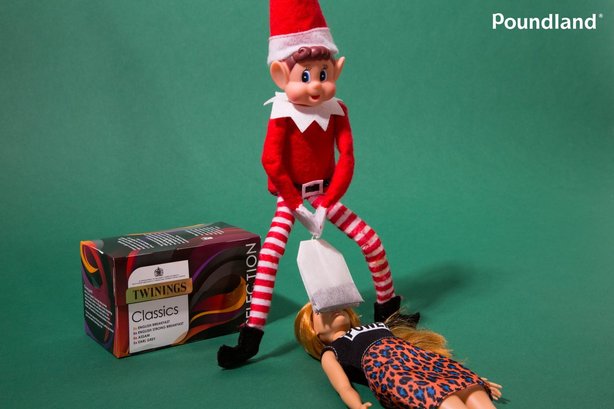 This story was updated on Thursday evening to include a comment from tea brand Twinings.
The campaign, focused on the Elf on the Shelf product, has involved a number of eye-catching posts in recent days:
How do you take your tea? One lump or two? pic.twitter.com/UMYQS3ivRd

— Poundland (@Poundland) December 21, 2017
Joker, joker, I really want to poker pic.twitter.com/wNIZcrBWZF

— Poundland (@Poundland) December 20, 2017
That's one very prickly Christmas tree pic.twitter.com/5FyYrlAzss
— Poundland (@Poundland)
December 18, 2017
Don't tell Rudolph I've found a new piece of ass pic.twitter.com/UA4Ye2jh3R

— Poundland (@Poundland) December 16, 2017
Some social media users have criticised the posts in the campaign, entitled 'Elf Behaving Badly', in particular the most recent one involving tea brand Twinings.
i get that the 'elf' is being naughty, cheeky etc...
but surely it didnt have to be overtly sexual ,
a sign of the times sadly....

— mark howsham (@MarkHowsham) December 21, 2017
this is incredibly grim, Poundland. is your social campaign being run by an 11-year-old who's just found out about sex?

— Lex Croucher (@lexcanroar) December 21, 2017
'Domestic violence' to knock down 'girl power' as displayed on the doll - this is a good idea???????? Your marketing team are in need of a reshuffle.

— Frances Hilton (@Florenceofarabi) December 21, 2017
What a tedious attempt at outrage marketing. Hope it blows up in your face.

— Caroline Criado Perez (@CCriadoPerez) December 21, 2017
Others have seen the funny side:
Think it's quite funny in all fairness ??

— ?????? (@JoeMBell) December 21, 2017
tbh it makes a change from all of the boring-as-fuck elf on the shelf crap on facebook - probably not one I'd do for the kids though ??

— Jem (@jemjabella) December 21, 2017
The amount of people this has triggered is unreal. Lighten up people. It's not like they've stuck their bollocks on an actual person. Let's be real, it's kinda funny. pic.twitter.com/w6eQKBHErt

— Ashley Clarke (@AshleyClarkey8) December 21, 2017
Twinings has since distanced itself from the campaign, tweeting:
We are aware of an image that is circulating that misuses our product. This is to confirm that we had no involvement in this and that it is obviously not reflective of our brand values.

— Twinings Tea (@TwiningsTeaUK) December 21, 2017
In a statement, Mark Pym, Poundland marketing director, said: 'If you think there's been a mixed reaction you just haven't seen the love on Facebook. It's overwhelming. That's because it connects with our shoppers. In fact, we're proud of the campaign that has cost £25.53 and is being touted as the winning marketing campaign this Christmas."
The campaign was devised internally at Poundland. One Green Bean handles PR for the retailer.