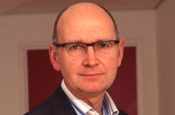 Staff were being informed this afternoon of the news, which comes after weeks of speculation over his future at the agency. Perry Volkenburg was promoted to the role of European president at the end of January, reporting into Keith Smith, the newly installed president of TBWA\ International.
Bainsfair said: "I've been a part of the TBWA\ Worldwide management team for the last nine years. Recent changes in management responsibilities, however, have altered my role and I now think it is a good time for me to move on. I wish all my friends and colleagues at TBWA continued success."
Jean-Marie Dru, the president TBWA\Worldwide said: "Paul has been a friend and colleague of mine since 1990, when he set up Bainsfair Sharkey Trott. I have been a close witness of Paul's great leadership qualities as well as all his different personal talents, and I can testify to his popularity within the TBWA network. We are sorry he is leaving and wish him all the best"
Keith Smith, President of TBWA\International added: "Paul has been an excellent representative of TBWA at the highest level for many years and we will all miss him. The orbit of his responsibilities did change following our senior management re-shuffle late last year and we understand that he has been less satisfied with his role, so although we regret his decision to leave, we do understand the background to his decision, we will be working hard and fast to fill the big pair of shoes that Paul leaves behind"
More news to follow in next week's issue of Campaign.