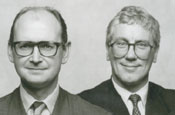 The pair, who with Dave Trott founded the advertising agency Bainsfair Sharkey Trott in 1990, are understood to be working on the launch of what a source close to the pair describes as "a web-based company which will sell advertising."
Bainsfair confirmed that he is "looking at a number of things with John," who he last worked with nine years ago, but declined to go into further details on the company.
Sharkey and Bainsfair are understood to be working with the Glasgow-based digital agency Dog Digital on ideas for the new company, which is expected to launch later in the year.
The venture comes four months after Bainsfair resigned from the position of European chairman at TBWA\London in the wake of mounting pressure and speculation over his role at the agency.
Earlier this year, Perry Valkenburg was appointed over Bainsfair to the role of European president and worldwide chief operating officer.
Bainsfair's role at TBWA\London will be covered by Tim Lindsay, who joins the agency as chief executive of TBWA Group UK later this month.
GGT acquired Bainsfair Sharkey Trott in 1997. The agency merged with the TBWA network a year later, when Bainsfair was appointed chairman of the TBWA\UK group.
Sharkey quit the advertising industry following the sale, from which he earned an estimated £2 million. He has most recently been working on a consultancy basis with a number of former clients.