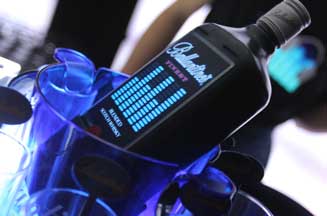 Designed by London-based packaging agency The Core, the Ballantine's Finest self-illuminating bottle, which can be powered by batteries or mains, is only available to the on-trade.
The bottle design is modelled on a graphic equaliser, the dark blue spray coated bottle appears to react to the tonal quality of audio passing through it, by lighting up intermittently to achieve back-of-bar standout.
The working bottle forms part of an on-trade campaign for Ballantine's Finest, entitled 'Listen to Your Beat'. Rolling out across bars and nightclubs in the UK and other markets, the campaign is based on the idea that 'by listening to your own beat and following your own instincts, you will make choices that leave an impression on others.'
Global marketing director for Ballantine's, Peter Moore, said "The 'Listen to Your Beat' campaign will energise our on-trade accounts by engaging consumers in a creative and eye catching manner."