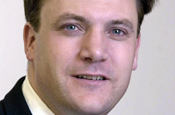 The recent Killian Pretty Review recommended the removal of the requirement that local authorities must publish all planning statutory notices in local newspapers.

It encouraged councils to display them in their own newspapers or on their websites instead.

The review said that the move would save local councils £15 million, and give them more flexibility in engaging with their local communities.

But, according to reports, at a Newspaper Conference lunch meeting last week, Balls spoke of his opposition to the move, calling decisions that undermine local newspapers as "a retrograde thing to do".

Balls said: "It is vital for the identity and aspirations of these communities that local newspapers are strong and flourish.

"I don't think it would be sensible to have any strategy on these things which actively damages them."