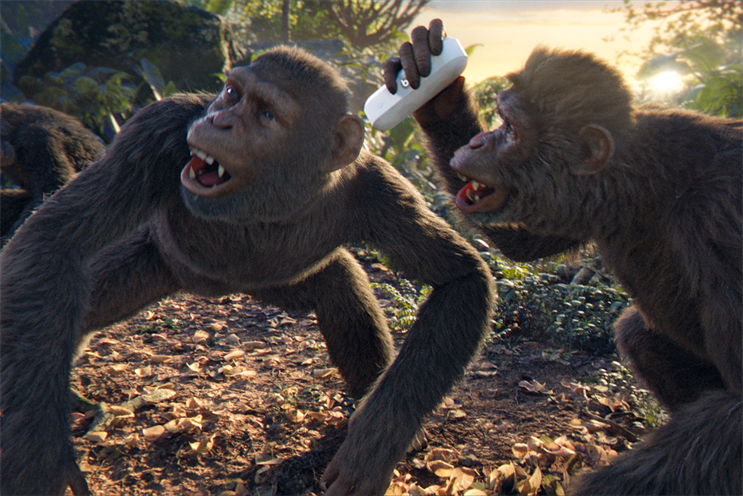 Coldplay would never normally collaborate with a brand on an ad, let alone on one of their own music videos. Chris Martin and his fellow band members are known for their ethical values and can afford to be picky, after being asked to perform at the Brit Awards, the Super Bowl and Glastonbury in recent months. All of which makes the band's partnership with Apple to promote its music speaker, Beats Pill, more notable.
It began in autumn last year, when Coldplay's record label, Warner Music, got an early look at the plans for the video for the band's single Adventure Of A Lifetime, and asked Apple if it would help fund the cost. The result was that Coldplay got to make a more expensive film that featured the four band members as animated chimpanzees cavorting in the jungle in a visual-effects extravaganza. In return, the band allowed its video to be used as an Apple TV ad with barely any changes, except that the chimps were clutching Beats Pills (pictured, above).
"It's like product placement reinvented," Bob Workman, the senior vice-president of brand partnerships at Warner Music in London, says, explaining why the deal made sense. "We had to offset the cost of an ambitious video."
But the integration went further, as Apple included Coldplay in other activity such as electronic billboards in New York's Times Square, where promotions for Beats Pill and Coldplay ran for a month. "It was a holistic deal," Workman says. "We got investment for Beats to fund the video and they secured a licence of the creative for their marketing."
It is just one example of a growing trend of record companies collaborating with brands to gain media value and drive revenue.
Warner Music's revenue from brand partnerships and sync (licensing music for TV shows, films and commercials) has trebled in the UK since 2013 at a time when music sales continue to feel the pressure. Similarly, rival Universal Music is forging closer links with Havas. Brand partnerships and sync could contribute close to 10 per cent of turnover at major labels, according to observers.
Brands benefit because artists can use their influence, particularly via social and other digital channels, to reach fans that might ignore traditional ads.
A partnership with an artist can drive sales. Warner Music's Charli XCX (pictured, below) worked with Unilever's deodorant brand Impulse last year to design two limited-edition spin-offs, Rock & Love and Vanilla Kisses, that increased revenues by 462 per cent in the first month compared with the same period the previous year. Charli XCX also helped to double Impulse's Instagram followers during the campaign.
Artists know they have growing power, but Workman maintains the music label remains important as a curator and deal-broker, and "we know how to create great entertainment".
He continues: "As a trusted creative partner for our artists, we're best-placed to do that. We have amazing industry relationships and insight. We know stories about our artists that are about more than just music." That's because the best partnerships, such as the Charli XCX and Impulse deal, are broader. "They might be stories about fashion or food or football. Brands are looking for stories that ring true. It's quite powerful when you bring those stories to life," Workman adds.
Catie Dear, the head of music at the7stars, says: "Brands are becoming more savvy about partnerships. When they started, they were talking to this homogenous, mass audience of music fans. Working with one artist, you can speak to a new and very specific audience."
About 80 per cent of Warner Music's brand partnerships are done via agencies. Specialist content and creative agencies and, increasingly, PR and media shops are getting involved amid "a blurring of jurisdictions". PR has increased in influence "because of social, experiential and live events", Workman says.
The big growth in social has been what he calls "visual channels". Instagram is "probably the number one" because artists like expressing themselves through imagery. Facebook is also important and Coldplay used the platform, rather than YouTube, to launch the video for Adventure Of A Lifetime. "When you looked at the analytics and the data, the biggest possible online audience in the world we could launch to in one day was on Facebook, not YouTube," Workman says. But YouTube still matters. Coldplay's video eventually got more than 100 million views on the video site, compared with seven million on Facebook. The content sites NME, Fader and Noisey also reach online influencers.
Record labels are behaving more like consumer-goods companies that use insight and data to understand their audience. "We've become far more focused on consumers in the past five years – truly understanding who the fans of our artists are and what their behaviours around music are," according to Workman, who has been with Warners since 2009. "That doesn't just mean downloads and streaming. It's things like listening to music on TV shows and films and buying tickets to concerts and merchandise – all forms of connecting with music."
His team are not just music industry people "having a crack" at working with brands. Many of his staff are former agency folk. Sometimes, the label will turn down a partnership if it seems "inappropriate" or insist that the brand be "more ambitious".
It requires bravery, he says, for a brand such as Peugeot to work with an artist who is "quite dark" like Lykke Li. The brand funded her music video and appeared in it, while her song appeared in Peugeot's TV ad.
Brand partnerships can backfire or upset fans. "When you're doing something creative, it doesn't always work perfectly. Our job is to mitigate the risks," Workman says.