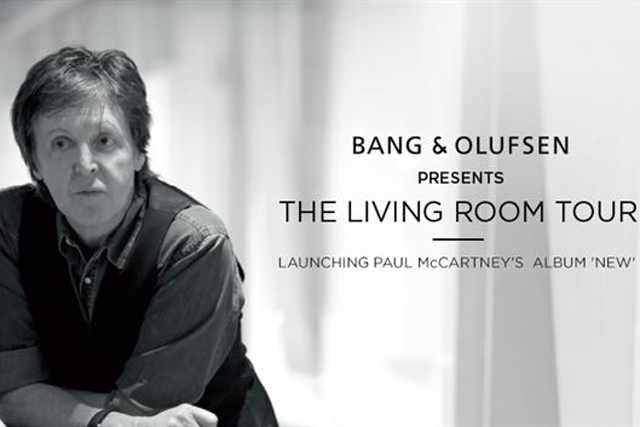 The session is part of Bang & Olufsen's "The Living Room Tour". It will feature an interview with McCartney at 2pm today at the Shard, which will be livestreamed from a dedicated site.
McCartney will be discussing the inspiration and influences behind his latest album 'New'. Consumers will be able to send in questions via Twitter by using the hashtag #askmccartney.
The Living Room Tour is the first in a series of events that feed into Bang & Olufsen's new brand strategy, which aims to reassert the company's "unparalleled sound credentials".
The new brand messaging – "Great sound deserves Bang & Olufsen" – aims to convey that sound is an important, emotional form of communication.
The supporting campaign, created by BBH London, is built around a passion for great sound and the belief that great music deserves to be heard as the artist intended, which, it says, is only possible with the highest quality speakers.
It is being supported with digital and PR work, and an online content platform created by BBH and built by Wunderman Copenhagen.
It will house an edited version of the interview along with additional behind the scenes footage relating the McCartney's new album, and a new product launch for the brand.