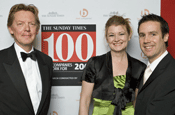 The bank's growth capital team said the money would provide debt finance and an equity investment of almost £3 million.

Iris today said it would used the cash to build a new business model, and invest in new markets and disciplines.

Ian Millner, joint CEO of iris, said: "As a self-regenerating agency that is always improving, developing and growing, this partnership will help us accelerate that process as we become the only alternative to the big old fashioned, advertising dominated networks."

Earlier this year, iris, established in 1999, bought management consultancy firm Concise in a deal worth £5 million.

iris was also ranked seventh in the 2008 Sunday Times 100 Best Companies to Work For rankings.