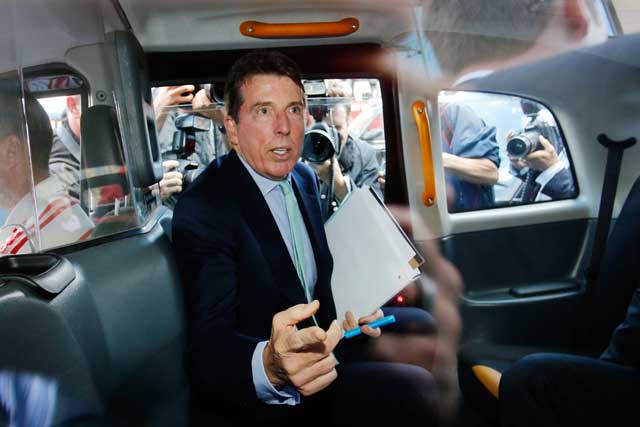 Brian Watson, the veteran creative and disgruntled Barclays customer, is a bit miffed that Bob Diamond quit before he could flood the internet with a series of ads including one that declared: "One Yank and your money has gone!"
The abortive campaign by Watson, who worked on the NatWest account as a senior creative at FCB in the 80s, reflects his belief that the crisis provoking Diamond's departure from his chief executive role has moved the banking industry beyond adland's capacity to help it. "Advertising can do many jobs, but I think this one is 'mission impossible', such is the scale of the damage the big banks have done," he says.
Indeed, Steve Govey, a partner at Mazars, the international accountancy firm, suggests the latest rate-fixing scandal is such a toxic mix of collusion, greed, incompetence and political interference that no advertising or PR campaign can fix it.
Small wonder that lots of big bank advertising is conspicuous by its absence. All Barclays advertising through Bartle Bogle Hegarty is said to be on hold while damage assessment is carried out.
Meanwhile, the Royal Bank of Scotland has been restricting itself to "mea culpa" print ads apologising for the computer meltdown that stalled an estimated 100 million transactions. The NatWest ads, by M&C Saatchi, make no mention of its "helpful banking" boast.
While not every major bank is hunkering down - HSBC has no plans to restrict its advertising activity - the consensus is that the other players sucked into the scandal should pull their advertising and keep a low profile until the storm passes, however long it takes.
"There's no point in turning yourself into a bigger target than you already are," a creative chief with extensive experience in bank advertising concludes. What's more, as one agency chief puts it: "Nobody knows who is going to be next to be called before a Commons select committee."
However, Peter Stringham, a former HSBC global marketing chief, argues that social media's emergence means any bank keeping its head down is in danger of getting run down like a rabbit mesmerised by approaching headlights.
"Just because you're not Twittering doesn't mean people aren't talking about you," he says. "What's more, you can't stop your staff connecting on the internet. Can you imagine how Barclays' staff are being peppered with questions from their friends at the moment?"
But Gordon Rankin, a former Barclays marketing director, suggests the period of purdah may not be too prolonged. "Most people have a poor understanding of what has happened and don't have long memories," he claims. "They tend to react only when the situations affect them directly and I doubt we'll see people switching accounts in droves."
As the big banks lurch from one crisis to the next, some suggest that it will be the newcomers and the mutuals that have the most seductive stories to communicate.
Among them is The Co-operative Bank, famous for its ethical principles, which will be propelled into the major league of UK retail banking if it acquires 632 Lloyds branches. Another is the UK-based Metro Bank, currently expanding its business in London and the South-East with the promise of longer opening hours than its rivals and better service.
Greg Delaney, the DLKW Lowe chairman who previously worked with Halifax, says: "There's a real opportunity for smaller players with an emphasis on customer service and who aren't tainted by what has happened."
FINANCIAL EXPERT - STEVE GOVEY, PARTNER, MAZARS
"From the mis-selling of pensions to the rate-fixing scandal, the banking crisis is a mixture of collusion, greed, incompetence and political interference. It all amounts to a bridge too far that no advertising or PR campaign can fix.
"The problem that the big banks face in their communication is how they differentiate themselves, particularly when so many of their services have been commoditised and many more of them are being sucked into the scandal.
"Claiming to offer 'helpful banking' just leaves you open to ridicule. The best advice must be to pull your advertising and keep your head down."
FORMER BANK MARKETER - PETER STRINGHAM, CHIEF EXECUTIVE, YOUNG & RUBICAM BRANDS; FORMER GLOBAL MARKETING CHIEF, HSBC
"It's naive of banks to try keeping their heads down. Marketing communications includes social media and you can't withdraw from engaging with online communities, even if you want to.
"It's important that executives get together each morning to review not only what's being said about their bank but where it's being said. Just like any other brand, a bank's health depends on how it's being perceived.
"The fact is that people's trust in banks is at an all-time low. The question isn't whether advertising can save them but whether anything can."
AGENCY HEAD - GREG DELANEY, CHAIRMAN, DLKW LOWE
"No slick piece of communication is going to solve this problem. It's time for the banks to show some humility and start looking after their customers.
"Their priority should be to concentrate on what they can achieve in terms of customer services and on doing things their customers would applaud. That might mean giving more help to people setting up small businesses or to some of the world's poorest people.
"Once they have done some of these things, they should begin talking about them, but not in a boastful way. People will only start believing in banks again when they deliver on their promises."
AGENCY HEAD - TOBY HOARE, CHIEF EXECUTIVE (EUROPE), JWT AND TEAM HSBC
"Although HSBC has a clear marketing strategy from which it hasn't deviated, the fact that banks in general are being held in such low public esteem doesn't help.
"Fortunately, HSBC gained trust and credibility in the UK because it never took taxpayers' money, while keeping a close eye on what's being said about it online.
"As far as Barclays is concerned, I see no reason why it shouldn't continue marketing its products and services, although promoting the corporate side of its business at this time might not be such a good idea."