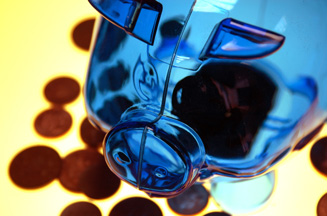 High-street banks and building societies hungry for deposits plan to follow the traditional Christmas lull with heavyweight ad drives urging consumers to start saving with them.
Even the government is getting in on the act with the introduction of its Savings Gateway programme. It encourages those on benefits to save by matching every £1 they deposit in their accounts with a contribution of 50p.
The COI is in the latter stages of appointing an agency to create an awareness campaign for this programme, and a series of information booklets will be sent out to qualifying people next year.
This is a dramatic shift from the government's previous attempts to move the country out of recession by stimulating consumer spending. According to Kevin Mountford, head of banking at Moneysupermarket.com, the change has been driven by necessity. 'The danger is consumer apathy, so no doubt there will be an aggressive start to January and February with ad campaigns trying to up the ante,' he says.
Mountford adds that the high level of savings marketing this year reflects efforts by 'nervous' financial-services brands to ensure that they maintain the correct levels of liquidity.
Anthony Thomson, chief executive of marketing advisory group The Financial Services Forum, agrees that the banks have little choice but to dedicate significant spend to savings promotion.
'Savings rates are increasing as a proportion of GDP, but the banks are desperate to increase deposits,' he says. 'With only small amounts of new money entering the market, it is about trying to convince consumers to move from one provider to another.'
A big sticking point is that the interest on offer to consumers does not match the generous returns of previous years, as the Bank of England has held its rate at 0.5% since March.
'The market is still hugely rate-driven,' says Tom Knox, chief executive of ad agency DLKW, which handles the Halifax advertising account. 'Consumers are looking at best-buy tables online, meaning it becomes even more about rates.'
Santander recently completed an integrated campaign promoting its 4.2% two-year fixed-rate bond. The bank's head of corporate communications, Anthony Frost, says a reliance on 'getting savings through the door' will lead to further activity next year.
Meanwhile, HSBC's head of savings, Richard Brown, contends that maintaining savings growth is key. HSBC plans to continue to push its products year-round, but Brown hopes that consumers will look beyond headline rates when choosing a product.
'There is always competition from an interest-rate perspective, but savers should look beyond the rate to ensure that they are getting the best savings account to meet their needs. This includes the level of access to their cash that they require and the financial security of the bank that they are depositing with,' he says.