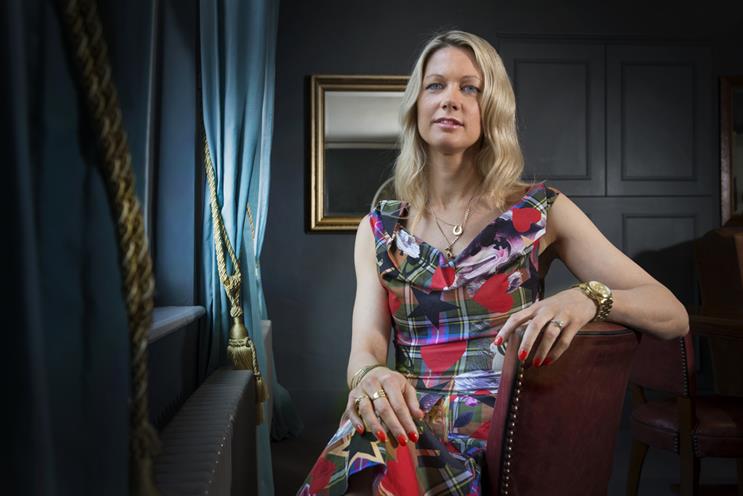 Why should you feel embarrassed about getting the morning-after pill?" Lucy Banks asks provocatively as she flicks through the scamps of the new ad campaign for the contraceptive brand Ella­One. "It's actually the most empowering thing. If you don't want a baby, it means you're happy with where your life is. It's not a bad thing; it's a good thing."
Banks and her colleagues at Bauer Media's new content agency, Adventure, have taken fairytales as the starting point for the campaign they are creating for the brand.
Except the fairytales have been turned on their heads, inspired by the "postmodern realisation" that, actually, many women don't want it all. "Maybe the princess is on her phone on Tinder or has a vibrator on the side of her throne," Banks explains, as no-nonsense as ever.
It has been four years since Banks started at Bauer Media as its executive creative director to spearhead the group's commercial creativity. Initially, she worked within Bauer Access, which was responsible for deals such as GoThinkBig, an ongoing training initiative with O2. But while Bauer Access mainly drew on the group's existing programming and editorial departments, Adventure has launched with a team of its own.
Banks has been quietly growing Adventure over the past eight months. The Forever Beta duo Ravi Beeharry and Andy Mancuso, whom Banks describes as "brilliant", joined Adventure as creative directors in August last year. Banks then hired Richard Moore, the former head of content at Microsoft Advertising, as the digital content director and the branded content specialist Paul Fulberg as the business strategy director. As Banks says of her hiring criteria: "We have a good-plus-fun equation."
Adventure has been set up as a "start-in model" with a separate P&L. "We operate like a start-up agency model but, obviously, we can pull in people from all over the place," Banks explains.
In the "groovy" leopard-print logo, the name of the agency rises and falls like the silhouette of a mountain.
And although it happens to combine the words "ad" and "venture", "fundamentally, it's about the spirit of adventure," Banks says.
As she proudly shows a promo video for the latest issue of Empire, Banks enthuses about her talented colleagues who "create the sort of work that really makes the hair stand up on the back of your neck".
And it seems the love-in is mutual. Lucie Cave, the editor-in-chief at Heat, says she has "always loved" working with Banks to bring brands into the Heat world, helping to "make them famous and loved" by its readers. "Lucy is a force of nature," Cave continues. "She combines big strategic thinking and a unique creative approach with an endless energy and hustle, which makes the really great ideas happen."
At Bauer, there is evidently none of the soul-searching currently happening among news brands about the relationship with commercial. "Unlike newspapers, there isn't this dichotomy between advertising and news," Banks points out. "Because we're pop culture. Brands are completely welcome in our DNA and they're woven in – whether it's fashion, film, music."
Brands are completely welcome in our DNA and they're woven in – whether it's fashion, film, music
Through Bauer, brands can reach a third of the UK every week – a depth that is key to the Adventure proposition. "We are a mainstream pop-culture business," Banks insists. "Do you want your cool, exciting idea to be seen by 200 people in Shoreditch or do you want it to be blown into the mainstream? If I was a brand manager, I would want 20 million people to see it."
The EllaOne work will go live in June, with different creative for The Debrief and Closer, whose readers might have very different reasons for needing the morning-after pill. Alison Slingsby, the marketing manager for HRA Pharma UK and Ireland, which owns EllaOne, is excited about the campaign and says Banks and the team "immediately appreciated the sensitivities and importance of communicating the virtues of something that has an empowering role in society".
Banks' larger-than-life character might occasionally overshadow her tenacity and creativity, yet she is deadly serious about her work. Richard Dunmall, Bauer's managing director of advertising, describes her as a "tour de force". In-between her stints at ZenithOptimedia and Bauer, for example, Banks had two children and launched a jewellery business, Violet Vintage, which she continues to run.
"I have huge regard for Lucy," Simeon Adams, a partner at Goodstuff Communications, which has collaborated with Adventure on clients including A&E Networks, says. "She's all the things I'm not.
She's full of energy, drive and ideas. She's also enormously good fun and likeable, which can be very helpful when you're trying to get things done."
After more than a decade of attempting to nail cross-media sales, Bauer seems to have developed a genuinely innovative offering. With Banks at the helm, it will be interesting to see where this journey takes the company.