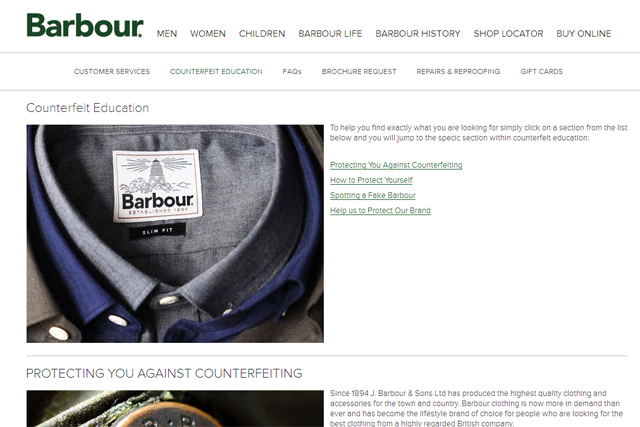 The Barbour brand, which was established in 1894 and produces more than 130,000 of its iconic waxed jackets each year, has seen a rise in the sales of fake Barbour jackets online.
It is keen to educate consumers who search for the brand about the possibility of purchasing fake items.
Like many brands, such as Burberry, a plain search for 'Barbour' generates an ad reading "Barbour official jackets: only buy from official Barbour stockists. Learn who they are".
However, searches such as 'fake Barbour' generate the text "Don't get caught buying fakes, see which fake websites to avoid". The ad links to a 'counterfeit education' section of the Barbour website.
Search marketing agency Search Laboratory is managing the campaign.
The opportunity the internet has provided for counterfeiters has been a thorn in the side of prestige brands.
L'Oréal filed related lawsuits in 2007 against eBay in the UK, Belgium and France, complaining that eBay "directs its users to goods that infringe trademark law, which are offered for sale on its website".
The brand won a partial victory in the case last year when the European Court of Justice ruled that eBay and other online marketplaces could be held liable for the sale of counterfeit branded goods when sold through their sites if they are aware of the activity.