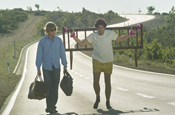 For the past two years, the brand has used Green Wing stars Stephen Mangan and Julian Rhind-Tutt to front its advertising. They have been dropped in favour of a strategy promising to 'cut the clutter' from consumers' lives. It is believed the ad will carry the strapline 'Glide with us'.
Later this year, Barclaycard will launch a TV and online campaign featuring a man 'gliding' through his busy commute. A spokesman denied that the campaign had been cancelled due to the economic downturn, but rather an international strategy was being developed to reflect the company's growing international business.
Mangan and Rhind-Tutt become the last in a long line of stars and high-profile comedy actors to front its campaigns, including Alan Whicker, Rowan Atkinson, who later developed his ads' MI5 agent character for the film Johnny English, and Jennifer Saunders.
The final ad in the current series, created by Bartle Bogle Hegarty, will break this Friday on Channel 4 ahead of Big Brother.
Meanwhile, the credit-card brand's owner, Barclays, has appointed Barclaycard head of marketing Libby Chambers as chief marketing officer for global retail and commercial banking. Chambers retains her current responsibilities at Barclaycard.
Data file: Barclaycard
Barclaycard has 10.1m customers in the UK, nearly one-seventh of the estimated 67m live credit cards in the country. However, its cardholder tally has fallen from 11.2m in 2005.
The company's cards are now accepted as payment for goods and services in more than 200 countries.
Barclaycard processes card payments for 93,000 retailers worldwide.
The brand's pre-tax profits rose 18% to £540m in 2007, although Barclay-card's UK card revenues declined over this period.
Barclaycard has cut more than 400 jobs this year.