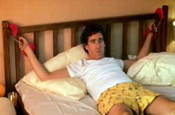 The ad, which featured a man handcuffed to a motel bed after having his possessions stolen, used the line: "Course if you had a Barclaycard all your fancy gadgets could have been insured - laptop, phone, new camera."

Two viewers complained that the voiceover contradicted on-screen text, which explained that the deal only covered three gadgets, worth up to £500.

A ruling by the Advertising Standards Authority today said: "We considered that the word 'all'... implied the insurance covered all gadgets, and was contradicted by the on-screen text that stated 'Maximum three gadgets totalling £500'."

It added that most people would consider the combined value of a laptop, mobile phone and digital camera to exceed £500, and the ad implied a greater level of cover than was on offer.

Barclaycard had attempted to argue that the phrase "all your gadgets could have been insured" was not an absolute claim that all gadgets would have been covered.