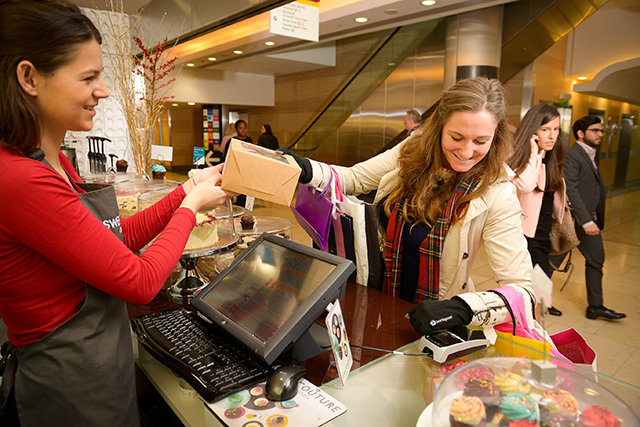 The glove will enable shoppers to 'tap and pay' and is being trialled over Christmas in several stores, Barclaycard said.
The woollen gloves are touchscreen-enabled so shoppers can use their mobile phones while on the move, and they are designed to act like a credit or debit card. They are embedded with a bPay contactless chip that can be used to pay for transactions of up to £20.
Barclaycard said it is trialling the gloves after shoppers in a survey of 2,000 voted gloves as the most "desired" wearable payment item. They were popular among shoppers who wanted an easier way to pay while laden with shopping bags. Rings and bracelets came second and third, it said.
"At some point most of us have experienced the stress of holding bags full of shopping while trying to find a spare hand to get our card out of our purse or wallet to pay," said Mike Saunders, managing director of digital consumer payments at Barclaycard.
"Some may have even been subjected to frustration from those piling up in the queue behind them - so when people told us that being able to pay with gloves would take some of the stress out of their Christmas shopping, we wanted to respond positively to shoppers' demand."
Barclaycard said 45 million contactless cards were in circulation in the UK and a quarter of all plastic new cards were contactless-enabled.