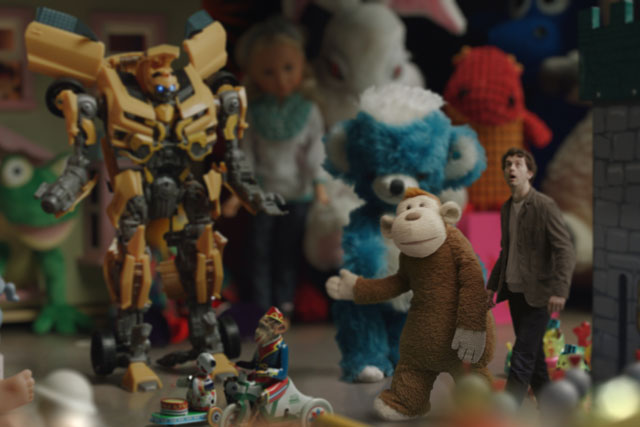 The brand will launch its 'Making Christmas easier' campaign, created by Bartle Bogle Hegarty, on Sunday (11 November), with a 90-second TV ad during ITV1's The X Factor.
The spot shows a father taking a lift to a department-store floor populated by living toys. It ends with the man using his mobile to pay for the 'ideal' toy gift. Actor James Corden provides the voice of Mr B the monkey, who acts as the man's guide through the toy shop.
Viewers can interact by using the Shazam app to tag the ad as it airs. This will allow them to enter a competition to win prizes. Barclaycard will give £5 to Great Ormond Street Hospital for each prize won.
Barclaycard is also releasing an augmented reality (AR) game as part of the campaign. Available as a free download, Toys Unleashed features characters from the ad, which users can 'play with' on the palm of their hand.
Barclaycard launched its 'Easier' brand proposition one year ago, with a series of print and online ads using straplines such as 'Getting it home is ne-ver easy. Paying for it quickly is.'
The brand last launched a major above-the-line campaign in early 2010, with a TV ad depicting a man riding a roller coaster to work.
It followed Barclaycard's popular 'Waterslide' campaign in 2008. This included a racing-game app that went on to become the most-downloaded free, branded iPhone app to date.