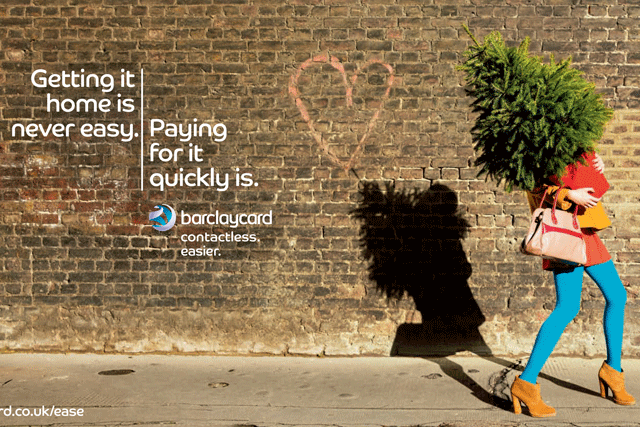 Created by BBH, the Christmas ad campaign, which launches today (14 November), includes the strapline, "Barclaycard. Easier", to promote Barclaycard's contactless payment system.
An outdoor ad features a woman carrying a Christmas tree, with the text reading: "Getting it home is never easy. Paying for it quickly is."
The ad will also run across press and online, including a Facebook page with helpful hints to manage spending over Christmas.
Walker Media handled the media planning and buying, while Dare created the digital work.
Gary Twelvetree, global brand director at Barclaycard, said: "Our Christmas marketing campaign will be delivered in a fresh and modern way, showing how Barclaycard makes this busy time of year a bit easier. By making budgeting and payments easier, we'll help our customers get on with what's important to them.
He added: "The new campaign will cover the broad spectrum of products and services we offer our customers, helping raise awareness of Barclaycard as a payments provider, and build relevance and consideration with our audience."
Follow Sara Kimberley on Twitter @SaraKimberley