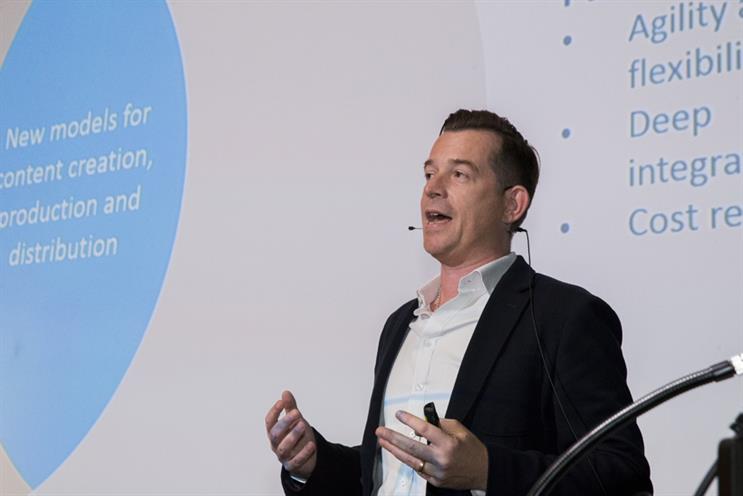 Barclaycard now begins all marketing conversations by examining what can be executed in-house, rather than through using external agencies, according to marketing director Alex Naylor.
Speaking at Campaign's Breakfast Briefing event yesterday (16 October) on "When brands take advertising in-house", Naylor said there are many "push factors" encouraging marketers to locate agency teams within their organisations.
The event was held at London's Regent Street Cinema in association with Wunderman, the global digital agency and WPP company.
Naylor claimed that Barclaycard has been forced to become a "digital business", requiring a more personalised approach to marketing and a "very different production model to the one we're used to".
In response to these changes, the brand developed an in-house agency in partnership with Oliver and began moving away from a campaign model that Naylor described as "desperately old-fashioned".
"The starting point is: what can we do in-house? That is a big mindset shift. Inevitably, that has consequences for the agency support we require," he said, but adding that agencies offering "best-in-class creative support" or specialist skills in areas such as technology are still required.
Naylor was joined on a panel debate by Gideon Spanier, Campaign's global head of media, and Catherine Newman (below), chief marketing officer at The Times, whose publisher, News UK, operates an in-house agency, Pulse, in collaboration with The & Partnership and Wunderman.
Newman remarked that, in today's "uncertain times", the company had wanted "greater control" over how it communicates with consumers. However, she urged brands in the audience to ensure that any agency providing on-site services offers a cultural match: "It's like asking someone to come and live in your house for a long time – it's a big commitment."
Operational rhythm
With the number of in-house agencies on the rise, according to recent research, James Sanderson, managing director of Wunderman Inside, commented on the increasing need for agencies to be in "lockstep" with clients, matching the brand's "operational rhythm".
"The need for speed prevails," Sanderson said as consumers are consuming fast turnaround content on multiple platforms in real time and expect next-day delivery of products.
"Our clients are moving to 52 seasons a year instead of the old four [seasons]. It's a big operational and speed challenge and if it's a challenge for our clients, it needs to be a challenge for our agency.
"I don't think we as an agency can work externally to the client any more," he added, explaining the "operational advantages" of being on-site and inside an advertiser's office.
Simon Buglione (below, right), director of Sky's in-house creative agency, which employs around 230 people at its campus in Osterley, west London, argued that the ability of his team to "live the brand" was a more important consideration than factors such as cost or the ease of sharing customer data.
"That's the benefit: that we are connected to those brands," he added.
Creatives operating within an agency can feel isolated from the client business they are trying to service, according to Martin Verdult, the newly appointed managing director of MediaMonks London, part of Sir Martin Sorrell's new S4 Capital venture. "In-house, you can do things, [you can] make things happen," he said. "The problem at traditional agencies [is that] creatives are not connected, they are on their own."
For Johnny Hornby, founder, chairman and chief executive at The & Partnership, which supplies on-site agency services for brands including Toyota and News UK, there is no logic in deploying content in isolation from the analytics people monitoring the activity in real-time.
"The reason why the conversation we're having this morning is going to accelerate is because of performance media and data. I think we're only at the beginning of this disruptive phase," he said.