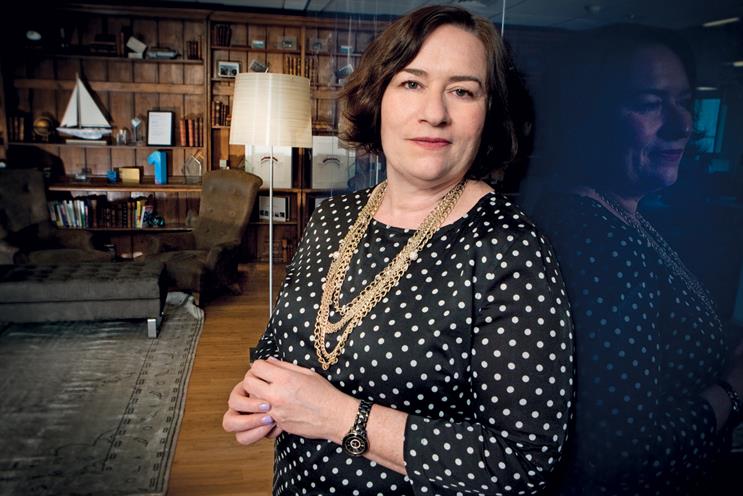 The credit card market is evolving faster than you can say "chip and pin". So fast that Katherine Whitton, Barclaycard's European marketing director, laughs at the memory of the zip-zap machine that used to press your plastic and present you with a chit to sign.
Now, as a new era of contactless payment beckons – Barclaycard has issued 19 million contactless cards – even "chip and pin" is beginning to sound passé.
Add to that the fact that consumers' demand for more value from their card issuers has multiplied, and the scale of Whitton's challenge becomes apparent.
As if that isn't enough, Barclaycard must operate in a market becoming ever more crowded, where its rivals are not just other banks but also the likes of Google and Apple, as well as major retailers.
To cap it all, Whitton also has the daunting task of extending the Barclaycard brand beyond the UK and into other European markets including the Nordics, Spain, Germany, Portugal, Italy and – heaven help her – Greece.
The task is made more complicated due to the diverse nature of Barclaycard's commercial arrangements – in some markets, it has proprietary businesses; in others, joint ventures – and the differences in market development.
As a result, Barclaycard, the UK market leader with some 23 million customers, is almost a challenger brand in some parts of Europe.
Irrespective of the maturity – or lack of it – within these markets, all have been seeking advice from Whitton and her 70-strong team, which works in the most sophisticated market of its kind in Europe, on best practice and marketing effectiveness.
In addition, Barclaycard must make a credible case that it offers the safety and security of a traditional bank to UK consumers still cynical about the banking sector in general and Barclays in particular.
"A lot of our customers are also Barclays customers and there's no getting away from the fact that it's our category in which consumers have lost trust," Whitton acknowledges. "The important thing is that we take what has always been good about Barclays and build on it."
She believes the bedrock is solid, pointing out that Barclaycard's brand consideration is at a ten-year high and that marketing spend is being significantly increased on the back of campaigns that have produced a million new customers each year for the past two years.
Most, though, are a new kind of user with very different demands. Gone are the days when credit card issuers pulled in the punters by offering the most competitive rates, Whitton admits.
The upshot is that card issuers must establish new relationships with customers. If they are using their plastic less because they don't want to run up debt, they need to be encouraged to use contactless payment for everyday purchases such as coffees. "We're ideally placed to bring buyers and sellers together because of our relationships with both," Whitton says.
For Barclaycard, that initiative goes hand in hand with broadening what has traditionally been an older customer base. Hence its greater focus on music, as manifested by its role as lead sponsor of the upcoming British Summer Time Hyde Park.
Today, contactless transactions are growing steadily. The value of them increased from £4.1 million to £27.7 million in the year to December 2012.
Barclaycard began demonstrating contactless payment with its "waterslide" and "rollercoaster" ads, but Whitton concedes there is still a lot of education and reassurance to be done.
"Customers want answers to two questions," she explains. "The first is where they can make contactless payments, because the system isn't yet ubiquitous. The second is: is it safe?"
Two big TV-led campaigns due to break within the next few weeks – both by Barclaycard's lead creative agency, Bartle Bogle Hegarty – are indicative of the way the credit card market is focusing heavily on people trying to make their money go further.
One is to launch Bespoke Offers, a digital reward scheme offering deals tailored to consumers' age and spending behaviour. The other will relaunch Freedom Rewards, which allows customers to collect points when they spend in any store.
Whitton agrees all this puts heavy demands on an agency roster that also includes Dare, Iris, The Mission and Maxus.
However, she believes her agencies can't work in isolation. "I've no time for agency boundary disputes," she declares. "But we won't get the best work unless we invest time with them. We regularly brief them about our business and let them know what's coming up so that they understand our strategy.
"We've always got something on the go."