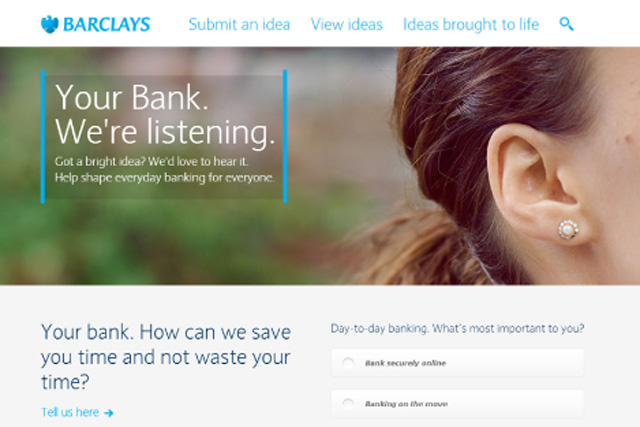 The 'Your Bank' initiative will invite members of the public, including non-Barclays customers, to help influence new products, digital banking tools, and in-branch experiences.
A campaign, rolling out on Monday 9 September, will attempt to raise awareness of the scheme and drive visitors to a 'Your Bank' online hub using an ear-themed creative.
Print, outdoor and digital ads, by BBH, will ask a series of questions designed to spark discussion and ideas. The questions include, "Your Bank. How can we save you time and not waste your time?" and, "Your branch. What would you change about yours?"
Each ad will carry the endline, "Share your ideas and help us build Your Bank at www.barclays.co.uk/yourbank ."
Red Bee Media will produce a series of online films to show how ideas are being used to improve everyday banking experiences. Media planning and buying for the campaign has been handled by Maxus, with Dare responsible for digital and social-media activity.
Purposes and values
The bank switched its UK retail marketing strategy earlier this year, using recent ad campaigns to showcase products it has launched as a result of "listening to its customers" and recognising their "financial dilemmas".
It comes as Barclays seeks to instil a new set of "purposes and values" on the back of several major scandals, and "rebuild trust" in the bank.
Sara Bennison (right), marketing director for Barclays Retail, said the bank wants to do a more "transparent job" of feeding customers' ideas into its business.
She added: "The 'Your Bank' platform represents a very public commitment to listening to our customers and showing how we are going to act on change, big and small, which can make their lives easier.
"The campaign, which takes the platform from beta to full launch, has a bold visual approach to demonstrate listening and is unafraid to ask provocative questions to demonstrate we really do want to hear."