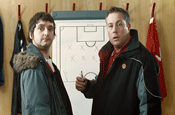 BBH has not been invited to pitch for the account and the move threatens its share of Barclays' advertising budget. If successful, Saatchis will be asked to create a series of sponsorship idents and promotional campaigns to back worldwide broadcasts of Barclays Premier League football matches.
In February 2005, BBH created a series of ads for Barclays to promote its Premier League sponsorship. They featured the Manchester United manager, Sir Alex Ferguson, and the former Bolton manager Sam Allardyce. The agency will continue to create UK-specific work.
Ogilvy Advertising, which won a place on the bank's roster after picking up the Barclays Wealth business in 2006, is not involved in the pitch.
Saatchis was appointed to the Barclays roster earlier this year, when it picked up the account for Barclays Capital, the investment-banking arm of Barclays plc.
The Publicis-owned network was awarded the £20 million business following a final two-way pitch against TBWA\London.
Jim Hytner, the Barclays brand and UK banking marketing director, said: "I wouldn't ask BBH to pitch because it's so busy working on all of our UK business."
The Barclays Premier League is beamed to more than 100 countries around the world over a number of digital and satellite platforms. Last week, the Premier League and Barclays announced that they were changing the name of the competition to the Barclays Premier League on a global basis. Until then, it had been known as the Barclays Premiership in the UK and the Barclays English Premier League throughout the rest of the world.
The decision was made after the two companies carried out research showing that there was a need for a single global unified identity.