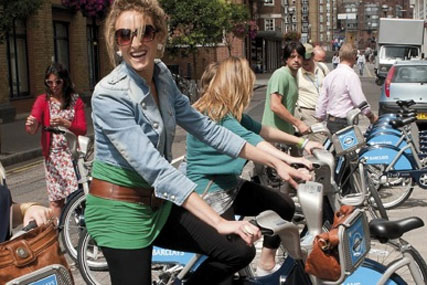 Barclays Cycle Hire sees 5,000 specially built bicycles stationed at hundreds of docking bays in central London.
People can hire the bikes either by registering for the scheme online, or by using their credit card at a docking bay. After a daily, weekly or yearly membership fee is paid, journeys under 30 minutes are free.
It is part of a wider tie-up between Barclays and TfL to promote cycling – Barclays is the sponsor of London's new "Cycle Superhighways" – a series of bright blue cycle lanes designed to make cycling easier and safer.
To date, Barclays has done little to promote its sponsorship, beyond a heavy branding presence on the hire bicycles and docking stations, on signage along the cycle superhighways, and on the relevant sections of the TfL site.
At the same time, some members of London's cycling community have criticised the branding for being heavy-handed
A spokesman for the bank said: "The strategy is to have really strong branding on the bikes and across the whole scheme, and all the communications are clearly branded with Barclays."
The whole scheme has also been designed using Barclays' distinctive blue corporate colours – although the colour of the cycling lanes, also blue, was chosen before Barclays signed as a sponsor.
Michael Johnson, founder of Johnson Banks, the consultancy behind Virgin Atlantic's new look, was highly critical of the superhighway branding.
He said: "I have to say I think the Barclays-branded cycle lanes is one of the most cynical and inappropriate bits of affinity branding I've seen for a while."
"It's like someone has said in a meeting 'We're hard up, the lanes are blue, let's go to Barclays'. Awful. As a cyclist myself, I'll do everything I can to avoid them. Why it has to be 'sponsored' is beyond me."
Although a number of independent app developers are working on or have launched iPhone apps with live information about cycle location and availability, Barclays has no plans to launch an official branded app at the moment.
Enthusiasts for the scheme have also noted that the name – Barclays Cycle Hire – is unlikely to catch on in common parlance, although there is no consensus as to how to refer to the scheme.
The Barclays spokesman said of the name: "We think it's quite short, clear and simple, and we believe Londoners will come to know and love it."
The day before the Cycle Hire scheme's launch, 11,000 people had registered to become members. They will have access first, with casual users having to wait.