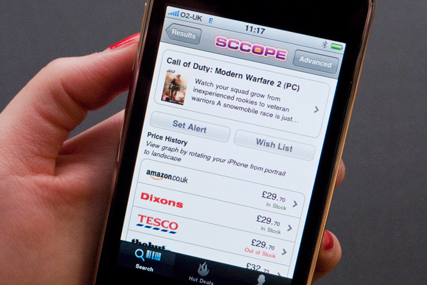 The app costs £1.19 to download and has earned an average rating of 4.5 out of 5.0 from App Store users. It was soft launched last Tuesday and first promoted on Saturday.
Consumers can use Sccope either by scanning or typing in the name of a product. The latter is possible on any mobile via Sccope's pre-existing mobile site and online, but the scanning functionality added in the iPhone app has given its popularity a massive boost despite the cost of download.
Cogenta, the company behind Sccope, provides the data from another arm of its business that supplies pricing information to retailers and brands for categories including electricals, toys and clothing. It supplements the data with inputs from Google's product search tool.
The products most queried in the app's first week were games, books and DVDs, according to Cogenta chairman Colin Glass, who admitted that its data does not cover food products, which has attracted some negative comments from users.
The next step, due within three weeks, is to introduce the capacity for consumers to use the app to pay for products via a credit card, as long as a retailer accepts this method of payment.
According to Glass, this is a UK first, though Amazon is currently offering customers the ability to pay for its goods via their mobile phones.
It is also in talks with all five major mobile networks about ramping up the availability of the app by pre-loading it on new phones.
Glass, a former managing director of PC World and Dixons, said: "I would guess by the end of this year it will be pre-loaded on about 20 million phones between Germany and UK.
"The barcode reader at the moment only works on the iPhone so we've got a few months work to do to make the barcode reader work on other phones."