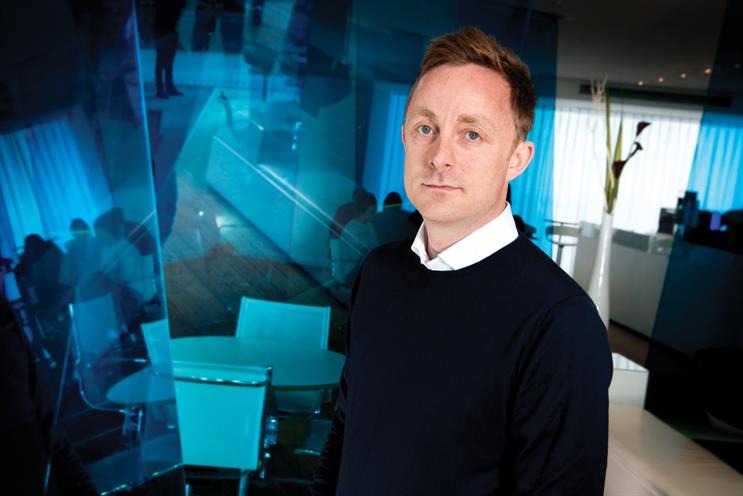 Stefan Bardega, ZenithOptimedia's chief digital officer, wanders into the ground-floor melee of the agency's Percy Street offices, where people are milling around the cafe, having impromptu meetings or sitting expectantly in the waiting area. Adding to the pandemonium is his photo shoot. As Bardega steps in front of the camera, his smile fades as he adopts a "serious" pose.

Just three months into his new global role, Bardega (described as a "leading light of the digital world" by his boss Belinda Rowe, the global managing partner) is getting his teeth into the challenge of turning ZenithOptimedia into a digital agency.

"My role here is very much about leading the continuing digital transformation of ZenithOptimedia. It is about setting the vision for our digital proposition and then creating a route map to deliver that vision globally," he says.

Bardega was hired at the start of the year from the rival agency MediaCom. He takes charge of ZenithOptimedia's digital operations, comprising the search marketing division Performics, the content unit Newcast, the analytics agency Ninah and the US content arm Moxie.

"People outside of ZenithOptimedia have never heard of many of these assets and I think that is part of the challenge: to raise the profile and talk about some of the brilliant work these businesses are creating on behalf of clients," Bardega says.

He spent seven years at WPP's MediaCom, setting up its Beyond Advertising unit to create content for brands. Bardega describes leaving the agency as "a bit like a relationship break-up – but, like all break-ups, you move on".

He has joined ZenithOptimedia as it looks to refresh its proposition globally with a restructured senior management team. Last year was a tough one for the agency, with the UK division losing two of its largest clients, British Airways and L'Oréal, and its chief executive, Tim Hipperson, leaving after just six months.
ZenithOptimedia created a new management board to oversee UK and global operations, chaired by Rowe.
Brands historically built around the 30-second spot. That reductive thinking has been turned on its head
Bardega declines to talk about this legacy: "We are looking forward – there is no point dwelling on the past. I've got an objective to build the agency of the future."

But he is keen to discuss what he calls "digital switch­over", which could take place next year or in 2016.

Some 38 per cent of ZenithOpti­media's turnover is from digital. Bardega sees this share growing to a point where the agency will effectively be a digital agency. Indeed, in the future, "all agencies will be digital agencies", he claims.

Bardega says there are likely to be other acquisitions to sit alongside the existing specialist agencies. He will also be hiring staff, particularly on the data side. And Bardega says that ZenithOptimedia is unlikely to recruit any digital specialist who is not conversant with mobile technology.

He believes the arguments about whether budgets should go into TV advertising or other forms of marketing will eventually become irrelevant as everything becomes digital. In fact, Bardega doesn't even talk about TV ads, preferring the term "video".

He says: "The way brands built their business historically was all around the 30-second spot. It was quite a reductive process – you had to squeeze your brand positioning into the ad. In the new digital world, that reductive thinking has been turned on its head.

"Your starting point is your owned assets, not your TV ads. You have to ensure your owned assets are optimised before you spend money on paid media. If your website isn't optimised for mobile, the customer experience is poor."

Bardega says the idea of a media plan on an Excel spreadsheet feels "very old-fashioned. It doesn't articulate to clients how complex the world is that we live in." Instead, he favours "customer experience maps", where clients are shown the way customers interact with the brand and how they can be targeted.

Perhaps not surprisingly for a digital aficionado, Bardega professes to love gadgets. He and his wife both wore Jawbone health-tracking devices after the birth of their first child, romantically merging their data about physical movements and sleep to see who was doing the most childcare at night. He glides swiftly over the results.

Bardega jokes that his new global role could be a blessing as travelling will excuse him from duties with two young children. He has already squeezed in a lot of travel in his first few months in the job, familiarising himself with the worldwide operation. But it is not just about visiting the big markets and regional hubs. "It is about identifying innovation from smaller markets as well," he says.

As ZenithOptimedia looks to move on from last year's setbacks, boost its digital proposition and enhance its positioning as "the live ROI agency", the input of a digital expert who describes himself as "a geek but also a realist" could prove invaluable.