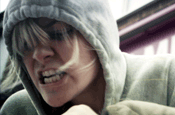 The Bartle Bogle Hegarty spot drew 477 protests to the Advertising Standards Authority which ruled that the shock tactics were justified.

The 60-second film shows four scenes repeated at increasing speed. The include a teenage girl behind a prison door, being hit hard on the back of her head and called a "worthless little cow" and her struggling with her school lessons because she cannot read.

The climax of the commercial shows the girl in a deserted setting having used drugs.

It ends with the message that "for thousands of children in the UK the story will keep repeating itself, until someone stops it".

Most of the protestors claimed the ad was too distressing to watch.

Others said it was unsuitable for transmission when children were watching. Some, who said they had been abused as children, claimed it had caused serious distress.

Barnardo's argued the hard-hitting approach was needed to ensure people understood what was happening and that the film was subject to a 9pm watershed.

It had also avoided scheduling the ad in programmes such as The X Factor Results Show which large numbers of children would be watching even though it was screened after 9pm.

The ASA ruled that the ad's content was justified in order to raise awareness of domestic child abuse and that the restrictions on its screening were adequate.