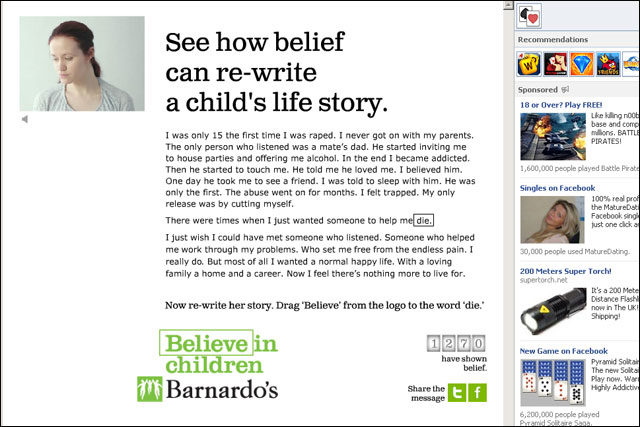 The app, created by Bartle Bogle Hegarty, tells the story of 'Jessica' and her abuse. Under the header, "See how belief can re-write a child's life story," the girl's testimony is written out, including the line, "There were times when I just wanted someone to help me die."
Underneath the statement, consumers are instructed to drag the word "Believe" from the Barnardo's strapline, "Believe in children," to replace the word "die" in Jessica's statement.
The statement, which is based on a true story, then re-writes itself to show the positive work that Barnardo's does to help children who are being sexually exploited, and takes consumers to a donation page.
The activity builds on Barnardo's 'Life Story' brand campaign, released in November last year, which aims to build an emotional connection with the charity and its work in different areas of child abuse. The ad will return to TV this December.
Lindsay Gormley, assistant director of marketing at Barnado's, told Marketing that the charity wanted to "build an emotional connection" with consumers through Facebook, and give people an opportunity to take action about sexual exploitation by showing them how to donate.
Gormley said the activity was a "logical extension" of last year's brand work, which is about "deepening engagement with consumers while giving them a mechanism to demonstrate their support.
She said: "The 'Life Story' campaign demonstrated to the public why we exist. We work with so many children throughout the UK in so many areas and we are here to transform their lives.
"This app gives the user a powerful insight into the reality of sex exploitation. It is a brand-building piece of work that continues from 'Life Story' and builds a strong case for support in order to become the children's charity of choice."
The push feeds into Barnardo's' ongoing 'Cut them free' campaign, which last month announced plans to raise £1.5m over the next year to double the reach of its child sex exploitation services across the UK.
Follow @loullamae_es