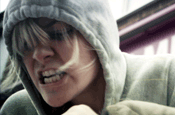 The Bartle Bogle Hegarty spot, launched in November last year, showed stark images of a girl caught in a cycle of violence and abuse.

The children's charity says the campaign led to a 33 per cent increase in awareness and that almost 50 per cent more people wanted to donate to the charity after watching the ad.

The harrowing commercial drew 477 protests to the Advertising Standards Authority after its release, but the watchdog ruled that the shock tactics in the ad were justified.

The 60-second film shows four scenes repeated at increasing speed. The include a teenage girl behind a prison door, being hit hard on the back of her head and called a "worthless little cow", and her struggling with her school lessons because she cannot read.

Barnardo's claims that the ad also had a positive impact on how the public see the charity, with more people likely to agree that Barnardo's tackles society's most important issues.