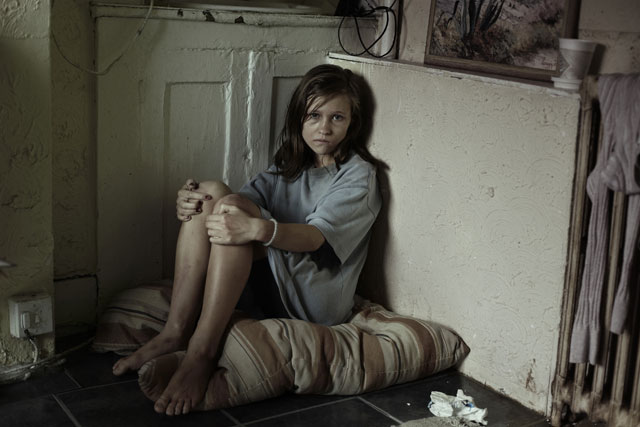 Diana Tickell, the Barnardo's communications director, is a client that creatives would kill for - even if no agency is going to grow rich on her business.
Despite a marketing budget that's recently been doubled, it's still small change compared with many other national advertisers. But a brief from Tickell invariably offers the chance to enter territory where other clients could not go.
Small wonder that the results have attracted the attention of the Advertising Standards Authority as often as Cannes juries. The charity's harrowing "break the cycle" spot through Bartle Bogle Hegarty attracted more complaints than any other to the ASA in 2008.
However, the watchdog refused to ban it. Indeed, it has ruled against only one Barnardo's ad - a 2003 national press execution showing a newborn baby with a cockroach in its mouth - since the charity adopted its highly provocative advertising stance a decade ago.
Producing ads that shock people into action rather than repelling them is a constant balancing act for Tickell and BBH. Of the £200 million a year Barnardo's needs to sustain its services, £70 million comes from donations.
This means that the £2 million annual adspend has to be deployed to maximum effect. It must keep the donations flowing in - even though none of the charity's ads overtly appeal for funds. It also has to galvanise all those who work with it, right down to the volunteers who man its 480 shops, which have a £30 million annual turnover and for which Tickell is also responsible. The shops are expected to make £6 million this year - a 100 per cent improvement on 2009.
Luckily for Tickell, she has supportive trustees, who include Hugh Burkitt, the Marketing Society chief executive. Not only did they sanction the doubling of the charity's adspend, but also the allocation of 90 per cent of it to TV.
As a result, Barnardo's has a profile that belies its ranking as the UK's 34th-biggest charity advertiser.
Making the budget work hard has never been more important. Like its peers, Barnardo's suffers from "charity fatigue" that the recession continues to fuel as well as the impact of appeals such as Comic Relief. "What wouldn't I give for some of that airtime," Tickell sighs.
Donations to children's charities have fallen as people have switched support to causes such as breast cancer research. At the same time, the charity is trapped by its own history. "A lot of people still think we run children's homes," she says. "The last one closed in the 70s."
By the late 90s, Barnardo's was battling anonymity. "We'd disappeared off the radar," Tickell admits. Cue BBH's appointment as its creative agency, with John Ayling & Partners to handle media. More than a decade later, the pairing remains in place.
Tickell admits the relationship with BBH hasn't been tension-free - not least because of the complex approval procedures each new ad has to go through. But she adds: "I have huge confidence in BBH's ability to come up with something different."
The more abrasive ad approach, spearheaded by Tickell's predecessor, Andrew Nebel, manifested itself in BBH's 1999 debut work - a print campaign under the theme "giving children back their futures" and depicting a baby as a junkie. "It got us into the broadsheets and in front of opinion-formers," Tickell says. "But the audience was small and we were relying too much on the press controversy to sustain interest. Our strategy has to be much more about the long term."
The decision to focus on TV for the past four years was based on what Tickell says is the need to create a strong brand platform under which fundraising activities can operate. "Break the cycle" set the style and it has been followed by "turn around", which highlights the charity's work in changing the lives of sexually exploited children.
"'Break the cycle' was hugely successful in terms of awareness but we left people hanging," Tickell explains. "They were watching this dreadful event but they didn't know what to do about it."
"Turn around" is more optimistic, putting greater emphasis on the solution. "It was the most difficult brief I've ever given to BBH because I was asking them to change the creative approach," Tickell declares. The spot will run during the summer, taking advantage of cheaper airtime, with a third film likely to break next year.
It underlines the need to keep the messages fresh, relevant and, above all, to give good reasons for giving. "We'll continue spending at current levels because we must," Tickell says. "If we stopped, all the efforts that have got us to where we are would go down the plughole."
THE TICKELL LOWDOWN
- Being prepared
It almost seems as though Tickell's career to date has been a preparation for her current job. She had extensive agency experience and had worked closely with charities.
- Have degree, will travel
Born near Huntingdon, she left college with a business studies degree in travel and tourism and spent her early working life with the Travel Club of Upminster and Olympic Holidays.
- A charitable offer
Her first encounter with charity marketing was at EHS Brann, which had the RSPCA and Barnardo's on its client list. Spells at the then Osprey agency and Kitcatt Nohr Alexander Shaw followed, before she arrived at Barnardo's in 2002.