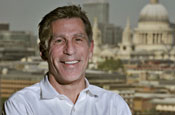 Bartlett, who joined ITV Global Content as chief operating officer at the start of April, has been acting as interim managing director since Airey left on 29 April to become chairman and chief executive of Five.

He will be responsible for overseeing a division that runs ITV's UK and international production and distribution businesses.

Bartlett joined ITV from Fox Broadcasting, where he was an executive vice-president responsible for the Hollywood studio's production and business affairs.

In his new role, Bartlett will report to ITV chief operating officer John Cresswell.

The Global Content division was placed at the centre of executive chairman Michael Grade's business plan for the broadcaster. Grade aims to double the annual revenues of the division to £1.2bn by 2012 by exploiting ITV's programming through sales to third-party broadcasters and digital exploitation.