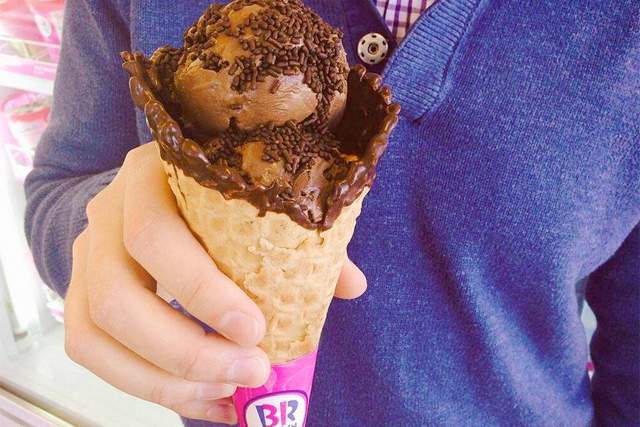 Today Dunkin' Brands has expanded its agreement with Cineworld for its Baskin-Robbins brand to increase its number of cinema kiosks from 18 to 43.
Jim Johnstone, general manager UK, for Dunkin' Brands said the goal for the Baskin-Robbins was to open between 80 and 100 stores over the next two to five years, with a "strong presence on the high street," to then "take the brand to other parts of the country".
In addition, the company has today signed its third 25-store agreement in the UK for the Dunkin' Donuts brand, which will take the total number of stores up to 75.
"Our long-term, 20-year goal, is to have 1,000 stores," Johnstone said, claiming that the Dunkin' Donuts brand already had a strong presence in this country, forming a strong base to build on.
Dunkin' Brands revealed its Donuts brand would return to the UK after a 20-year hiatus late last year, with the goal to develop a total of 150 stores over the next five years.
The brands already have a clear, differentiated positioning to be able to compete with on the market, Johnstone said.
In the US, the Dunkin' Brand's headquarters is home to 19 culinary chefs, and Dunkin' Donuts is driving innovation by creating sandwiches, as well as developing new doughnuts.
For Baskin-Robbins, its offer of a new flavour of ice-cream every month is a key strategy for the brand, and "for people to be able to come into the store every month and see a new product is very strong" for the brand, said Johnstone.
Johnstone said he hoped the brands would be advertising on TV within the next few years, but for now, the brand's marketing plans were being kept localised to drive sales in stores, while targeting consumers through social media.
The Dunkin' Donuts and Baskin-Robbins brands' high-street presences are built through a franchise network, and these are the people who take first priority, Johnstone said.
He said: "Franchisees pay directly into the marketing fund, so they need to see the money is being well spent."