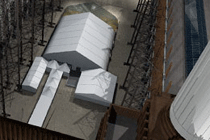 Plans for a 1,000-capacity temporary structure featuring a translucent dome from location agency 1st Option Representation are now being considered for the site.
The temporary structure, designed for award shows, product launches and corporate events, is penned to be available for hire between September this year and May next year. Open house tours will be held at the venue next week.
Battersea Power Station has previously been used as an event space, but its understood that this will be the first time events will be held inside the building.

"Should our planning be approved, I suspect this to be one of the most exciting new venues this year," said 1st Option director of events, Elias Devries. "Structural work has been done so that the venue is absolutely safe. The translucent celing will be a real highlight."
To leave a comment register and let us know your thoughts.