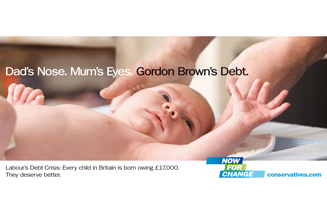 As a general election draws ever closer, the two main political parties have started to flex their marketing muscles.
Depending on which political commentator you pay heed to, Gordon Brown could go to the polls as early as June, or hang on until May 2010.
The Conservative Party has been first to start to show its hand with an outdoor, press and digital campaign, which broke last week. The work, by Euro RSCG, criticises Brown's handling of the economy. The Tories have also embraced digital with initiatives such as WebCameron and a web 2.0-style relaunch of their website last year.
Jeremy Hunt MP, the Conservatives' online campaigning spokesman, says the site is a 'huge campaigning asset to the party'. He goes on to admit that the party has learned from Barack Obama's presidential victory. 'The biggest area where we have taken lessons is the sense of closeness he was able to create between himself and his supporters with the clever use of video, email marketing and blogs.'
Quick-fire tactical activity has been another feature. As the Chancellor, Alistair Darling delivered his last pre-budget speech, digital marketers at Tory HQ were instantly buying up adwords he had used in it on Google.
The shift to digital has been driven in no small part by the parties' parlous finances, which no longer allow them the luxury of running heavyweight outdoor pushes on the scale of those from the days of Margaret Thatcher.
Lord Bell, who ran Thatcher's ad campaigns, predicts that, as a result, the next election will be largely fought online but expresses scepticism in its effectiveness. 'I don't think the internet is quite the revolution that it is said to be,' he opines. 'The people who vote in the least numbers are the people who go on Facebook and MySpace.'
Labour's efforts have been less high-profile but the party is getting its act together. Last week it emerged that Derek Draper, the party's campaign adviser and the brains behind a website for its sympathisers, Labourlist, has drawn up its new media strategy.
In a memo, seen by Marketing, sent to the party's general secretary Ray Collins, Draper outlines what he calls an 'Obama-style' online phone bank. This will enable campaigners to telephone canvass from home and input results into the Labour database.
'Virals and widgets' are highlighted as a key plank of Draper's plan, too. 'We have definitely moved ahead of the Tories in recent months and should be proud of that but we need to do even more,' he states in the document.
However, a recent spoof Shadow Cabinet web chat, created for Labour by Tangent One, has drawn criticism.
'It's sad that in the midst of the worst recession since the 30s, the Labour Party spends its time online creating cheap attack ads rather than using it to explain their policies,' argues Hunt.
Hunt's reaction may be predictable, but visitors to the Brand Republic website seem to agree. Chris Barraclough, chairman of BEC London, writes: 'The spoof is a self-indulgent exercise, featuring in-jokes, to be savoured by the Westminster village.'
Helen Coult, a headhunter for digital specialist Pinpoint Search, rails against 'seeing our hard-earned cash... thrown away on ridiculous campaigns like this'.
Coult is probably not alone in mistakenly believing that the viral is funded by taxpayers, so it is clear that Labour will have to tread carefully.
There is also an argument that statesmanship wins out over cheap swipes in difficult times. After all, it is generally agreed that ads run by Senator John McCain during the US election, containing personal jibes at Obama, alienated cash-strapped voters.
However, a Labour spokeswoman says: 'When we make things funny and visually engaging, they go viral.'
Bell also thinks the nation may still have an appetite for negative ads. 'If it's done with wit and style, it can still work; Brits like a laugh,' he says.
The coming months will be fascinating for politicos and marketers while the parties seek to define themselves to a recession-weary public.
Classic campaigns
In 2001 Labour sought to protect its huge majority by scaring voters with the threat of a return to Thatcherism. A TBWA creation depicting William Hague sporting Thatcher's hair aimed to convey the message that he was a puppet of the former leader.
Saatchi and Saatchi's 'Labour isn't working' ad helped sweep Margaret Thatcher to power in 1979. Seen as the gold standard for political advertising, the winding queue it depicted comprised young Conservatives rather than genuinely unemployed people.
'Demon Eyes' did not prevent Labour's 1997 landslide, but the M&C Saatchi ad purportedly achieved £5m of publicity on the back of a £125,000 spend. The ASA found Tony Blair had been shown in a dishonest, sinister way and called for the ad to be withdrawn.