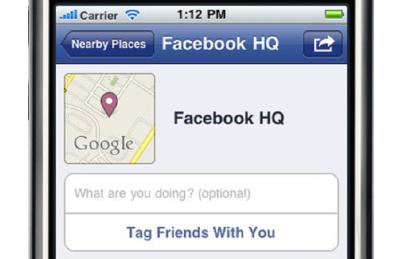 The service allows Facebook members to be 'geo-tagged' and share their location with friends. It is currently available only on Facebook for iPhones, but other mobile platforms are due to adopt the service soon.
The imminent UK launch of Facebook Places will pit the social networking site in direct competition with location-based social media app Foursquare, which is rapidly gaining traction with UK advertisers.
Facebook Places and Foursquare are widely seen as the next big thing in social networking, providing brands with the opportunity to target consumers with ads relevant to their physical location.
Michael Sharon, product manager for Facebook Places, says consumers will be able to share their geotag with brands, enabling them to 'build interesting experiences around location'. Third parties will need permission before accessing user information.
Andy Kinsella, innovation director at digital agency glue Isobar, suggested that the app would open new doors for brands. 'There will be a lot of smart activity based around people coming together,' he said. 'Wearable technology will enable automatic check-in to stores, and immersive social gaming will become a reality. We all know what's possible, but now the numbers make it exciting and viable.'
Another advantage is the fact that brands can be active, according to Adam Field, head of social media at MPG. He added that advertisers should try to maximise 'social currency' by encouraging consumers to 'check in' as often as possible using the offer of free goods and services as an incentive.
Brands are hoping to capitalise on the UK launch of Facebook Places, which made its debut in the US earlier this month. Simon Wallis, sales and marketing director for Domino's Pizza, said: 'We have had great success to date with our Foursquare promotion here in the UK, so it will be interesting to see how Facebook Places is received by both brands and the social networking community in the US.'
He added: 'Local marketing activity is a key part of our strategy. Social networking tools that encourage people to engage with their nearest Domino's store provide another great opportunity.'
The launch of Facebook Places comes as Ofcom reports that 16- to 24-year-olds using wireless devices account for a fifth of all time spent accessing social networking sites.