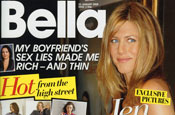 The publisher has struck a deal with TPC in which the majority of the independent sales houses' 25-strong staff will become H Bauer employees.

The new sales unit will be named HBP Media Sales and will be headed up by TPC managing director Simon Young, who, it is understood, will take on the new role of managing director of advertising sales.

Young will report to H Bauer managing director David Goodchild, who said the move would provide "a greater focus and closer ties to all our advertising clients".

The new until will be operational from April 3 and will be based in Bauer's Camden office.

It will be run as a seperate sales team to Bauer Consumer Media sales, which oversees sales for the radio stations and magazine titles acquired by Emap.

It is understood that holding company TPC will continue to run its overseas operations, under chief executive Mike McCafferty.