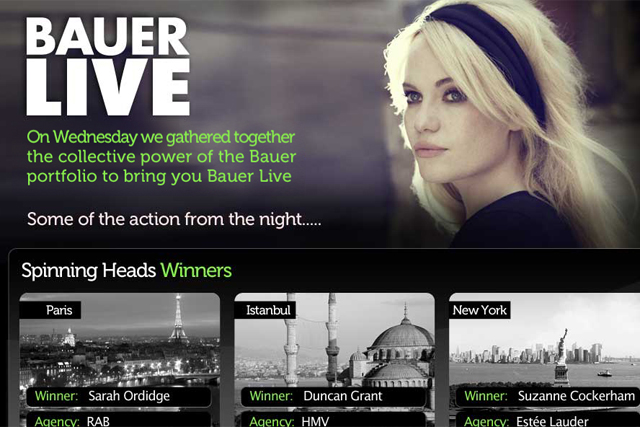 From January 2011, Bauer Access will take the form of a series of 'open-access' sessions between Bauer Media's editors and programmers and advertisers and agencies.

Bauer Media unveiled the commercial creative venture at an event last week called 'Bauer Live', which aimed to show commercial partners 'the reach, influence, engagement and unique cross-platform offer of the Bauer Media portfolio'.

Bauer Access will be led by broadcast sales and cross-media director Karen Stacey, with support from senior creative leaders Darren Khan, Brent Coulson, Joe Evea and Steve Taylor.

Stacey said: "The launch of Bauer Access will harness the best insight, intuition, talent and ideas we have to offer. Our ambition for Bauer Access is to provide clients and agencies with increased access to editors, programmers and the key creators of our content - and a route to build deeper connections with audiences."

Bauer Media has worked on recent bespoke cross-media campaigns for clients Russian Standard Vodka, Orange, Barclaycard and Sony Ericsson.
Barclaycard, for example, collaborated with Bauer's music brands such as Q on a recent campaign as it wished to further its association with the music industry. Barclaycard is currently the headline sponsor of the Mercury Prize, which has been renamed as the Barclaycard Mercury Prize for this reason.

The 'Bauer Live' event featured a performance from Kiss 100's Breakfast team DJ's, Rickie & Melvin, and pop singer, Duffy.