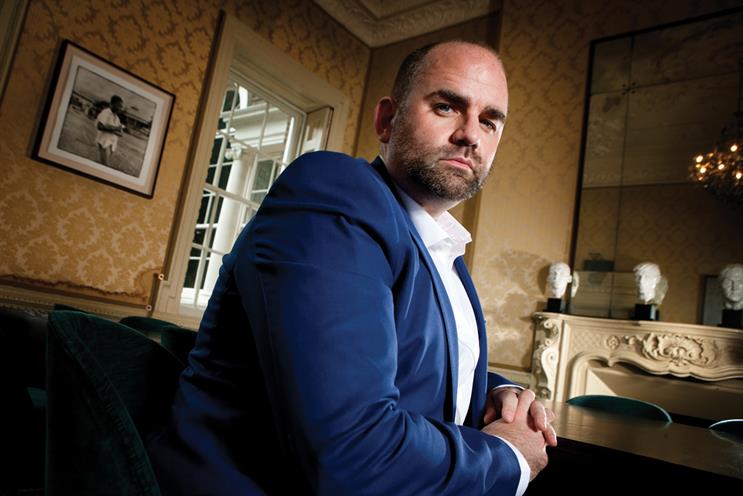 Despite having an editor who has a direct line to Steven Spielberg and 80s pop stars hosting radio shows, Bauer Media does not have the swagger of some of its rivals.
Richard Dunmall, the former global chief executive of Naked Communications and vice-president at Microsoft Advertising & Online, has returned to the UK to change that as Bauer's managing director of advertising. He wants to shout about what Bauer's brands offer, but also make it easier for agencies to reach them.
One of Dunmall's first tasks was to restructure Bauer's sales teams, bringing its radio and magazine people together for the first time. He speaks warmly about the leadership squad he has put in place, describing Simon Kilby, the former commercial director of Absolute Radio (which Bauer bought in December 2013), as "fabulous". Kilby has taken the role of head of marketplace, Bauer's new group of agency-facing multidisciplinary teams.
Each of the new groups aligns people around what they do rather than what they represent. Clare Chamberlain, the former sales director at the London lifestyle division, who Dunmall describes as having a "huge amount of experience", has moved to the new position of head of creative and brand solutions. Meanwhile, the executive creative director, Lucy Banks, will continue to lead content marketing within an enlarged creative resource (more of which later).
"It can be hard to navigate Bauer," Dunmall admits. "It's like: where's the 'bat phone' to Bauer – when you've got a brief – that stops us competing with each other and allows us to actually create a really creative, exciting opportunity for major advertisers and agencies? That had been the frustration for a while."
The idea is for the sales team to stop concentrating on selling single brands (such as Q) and look to offer multiplatform campaigns across Bauer – for example, brands after the music-loving male readers of Q might be interested in Absolute Radio, and so on.
Although Dunmall's changes could hardly be described as radical (most media owners have restructured into agency-facing teams), they make a lot of sense. Among its many digital, radio, TV and magazine products, Bauer reaches a substantial 22 million people every week. But it has not always been easy for brands to buy cross-platform solutions to reach them all. Past attempts such as Emap2 and Bauer Access stalled as they were ahead of their time, according to Dunmall.
"Access [which launched in 2010] was quite a good brand as it was literally access to talent and distribution," he says. "But what we ended up doing was being more of a successful but reactive cross-media sales team. So that bit goes into creative and brand solutions. But then there's the bit it was always supposed to be – real partnerships along the lines of GoThinkBig [with O2], which are a new business model for us."
Where's the 'bat phone' to Bauer when you've got a brief - that stops us competing with each other?
To this end, Bauer is preparing to launch a content marketing division, led by Banks. Dunmall is looking to invest in some "genuine creatives" as well as people with other "thinking and doing skills" to work with her. The operation will have its own profit and loss account so Dunmall can assess the incremental benefit it is bringing. "Lucy is an ideas powerhouse, so giving her the infrastructure to do brilliant things is a pretty simple but effective philosophy," he points out.
Agencies welcome Dunmall's changes. Chris Locke, the UK trading director at Bauer's agency, Starcom MediaVest Group, says the new structure will allow Bauer's sales team to "obsess about its audience" and how it can be brought together.
Meanwhile, Dominic Williams, the head of trading at Dentsu Aegis Network's Amplifi, says Dunmall is "really refreshing" for Bauer: "It's really great that they've got someone for the first time who is in charge of the magazines, digital, content, radio and sponsorship. That's what agencies have been shouting for."
Dunmall is an engaging advocate for Bauer and, with a background in agencies (both digital and media) and selling, he brings new skills to the group. Paul Keenan, the chief executive of Bauer, cites his "strong and broad leadership experience and great sales pedigree" as the reasons he was chosen to help develop Bauer's new vision. Dunmall was, after all, selected over the likeable and passionate Karen Stacey, who had worked at the company for 16 years, latterly as its broadcast sales director.
Privately, some agency executives say Bauer has suffered because Keenan and Dee Ford, the group managing director of radio, have failed to get in front of agencies often enough. If that is the case, bringing Dunmall in to do it for them is a smart move. Bauer has tried to make similar changes before but, now that the industry has caught up, it may succeed this time round.