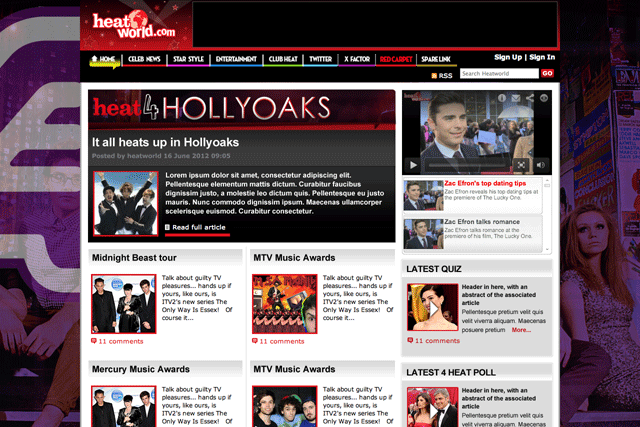 For the interactive shows, which will be produced by Channel 4 and Bauer Media's joint venture Box TV, Cave and T4 presenter Will Best will be joined in a London living room by celebrities, including some from the main show.
The online programmes will take over E4.com and Heatworld.com while the TV show they are accompanying is on air, and will offer live reaction to what is happening on the big screen, as well as an additional content and a 15-minute "wrap" show.
Alongside the video footage, there will be curated Twitter feeds that are relevant to the show.
The first Channel 4 programme to get the Heat treatment will be 'Hollyoaks' at 6.30pm on Friday 8 June. A spokesman for Bauer Media said the other two shows will be announced in due course.
The campaign, dubbed 'Heat4…Live!', will be promoted through editorial and ads across the Heat magazine and website, in More magazine and More's Facebook site, as well as through a radio campaign on Heat and Kiss.
The activity will last for 10 weeks and, when the main shows are not on air, the partnership will exist as a bespoke entertainment channel on both Heatworld.com and E4.com.
James Walker, acting head of marketing, Channel 4, said: "The way people watch TV is changing all the time and we're constantly looking to create new and exciting ways that bring audiences to, and engage them with, our shows.
"Combining Heat's strong editorial with Channel 4's great programming will make for a really captivating viewer experience and we've loved working with Bauer to bring Heat4 to life."
Bauer Media was awarded the brief after Channel 4 and its media agency OMD a held a pitch to find a solution to fit what Alex Ebdon, head of planning at OMD, said was "Channel 4's pioneering spirit".
Lucy Banks, executive creative director of Bauer Media, said: "This campaign allows us to use Heat's ability to ramp up engagement and 'editorialise' excitement about great Channel 4 shows with this ground-breaking new format that rewards their viewers – and ours – with an even deeper experience of the stuff they love best.
"Born out of the huge increase in dual viewing behaviour, driven by Twitter's increasing popularity, the campaign shows off the complementary relationship between linear TV viewing and social media, and the natural synergies between the Heat and the Channel 4/E4 brands."
Last week, it emerged that Box TV is launching a Heat TV channel, which will replace the 12-year-old station Q.
Follow Maisie McCabe on Twitter @MaisieMcCabe